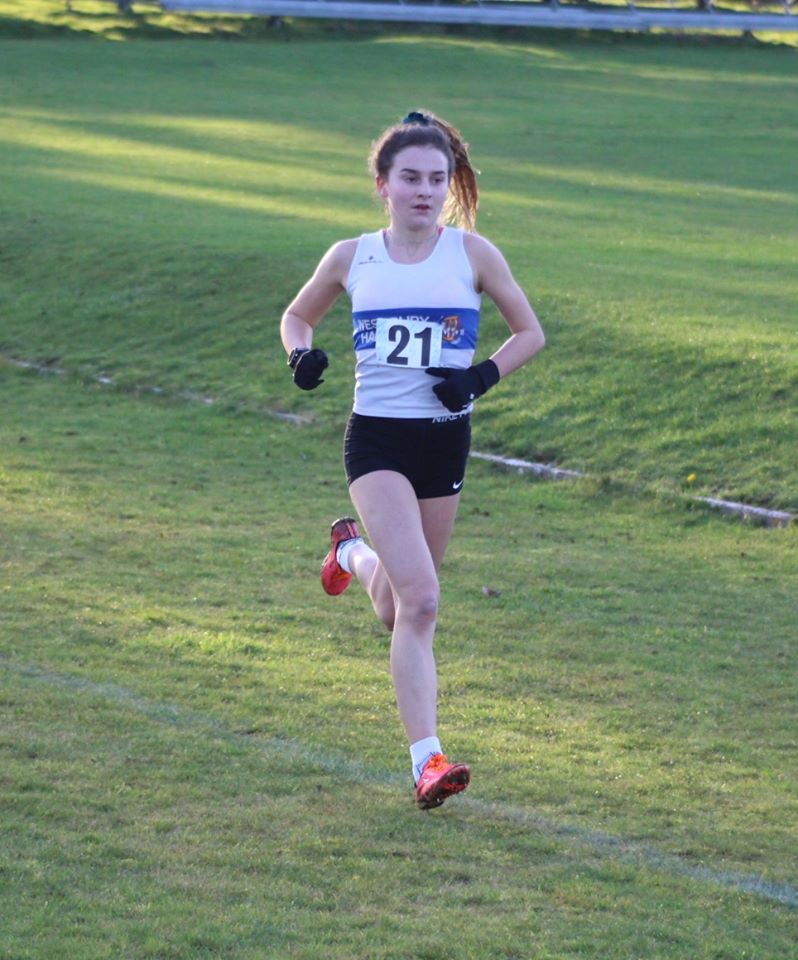 ROSIE Hamilton James will lead the Avon senior girls' team at the South West Schools Cross Country Championships in Bournemouth next month after an emphatic victory in the county event.
The Bristol Grammar School student (pictured above by Harriers' runner Mike Mewse) dominated the race around Kingswood School sports fields, Bath, to claim her second title in three years, having won the inter girls' race in 2018. She also won a silver in the inter's race twelve months ago.
Hamilton James finished well clear of QEH student Claudia Spice with Beechen Cliff's Freya Spruit third.
With two wins to her name in the Gwent League this winter plus two top 15 places in the British Cross Challenge Series races at Cardiff and Liverpool it has been a good winter for the Westbury Harrier so far.
On this sort of form and despite being bottom of the age group she should be one of Avon's best hopes of challenging for a medal at the regional event though competition will be intense as ever.
The same could be said of senior boys' champion Alex Parsons.
His form has also been excellent of late as he ended 2019 with victory in the Tri-Counties Championships and then opened the new year with a respectable fourth place in the South West Inter-Counties event at Yeovil.
Pacesetter: Alex Parsons (No 1 and extreme left) already to the fore at the start of the senior boys' race.
On his 'home' turf in Bath the Beechen Cliff School runner, who competes for Team Bath and is coached by Kevin Brunt – brother of former Bristol & West Paralympic star Steve Brunt – was too strong for Clevedon School's Alfie Hocking.
But that was a fine effort by Hocking, who is coached by Julian Emery at North Somerset AC and follows up his fine sixth place at Yeovil.
Avon Schools Cross Country Championships, Kingswood School, Bath (KEY: APS=Ashton Park School; B=Backwell; BA=Badminton; BC=Beechen Cliff; BCL=Bath College; BFS=Bristol Free School; CC=Clifton College; CH=Churchill; CHS=Clifton High School; CO=Colston's; CoB=City of Bristol; CP=Clifton Prep; CL=Clevedon School; CS=Castle School Thornbury; G=Gordano; H=Haysfield; K=Kingswood; KES=King Edward School; M=Marlwood; MC=Monkton Combe; MF=Mangotsfield; P=Priory; QEH=Queen Elizabeth Hospital; R=Redmaids; RA=Ralph Allen; RGS=Redland Green School; RH=Royal High; SB=St Bedes; SBL=Sir Bernard Lovell; SG=St Gregory's; SK=St Katherine's; SMRT= St Mary Redcliffe; W=Wellsway; WI=Winterbourne; WR=Writhlington).
Senior girls: 1 Rosie Hamilton Jones (BGS); 2 Claudia Spice (QEH); 3 Freya Spruit (BC); 4 India Ibbotson (BCL); 5 Amy Richards (BC); 6 Lizzie Narbett (K); 7 Rhiannon Paton (RGS); 8 Emily Whittaker (BGS); 9 Bridie Knox (K); 10 Dara Goodluck (BA).
Teams: 1 Banes 34; 2 Bristol 44.
Senior boys: 1 Alex Parsons (BC); 2 Alfie Hocking (CL); 3 Justin Davies (KES); 4 Sam Gentry (B); 5 Ben Habbin (CL); 6 Ollie Harper (WI); 7 Gregg Hayward; 8 Oliver Lock (CHS); 9 James Harrad (CS); 10 Will Cheek (CoB).
1 North East Somerset 62; 2 Bristol 82.