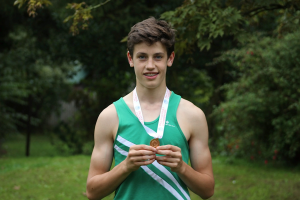 RORY Howorth delivered the perfect performance to not only win a medal at the English Schools' Combined Events Championships but also his first international call-up.
The 14-year-old Team Bath athlete (pictured left) produced personal bests in every single one of the five disciplines in the junior boys' pentathlon culminating in a superb 800m in 2mins 00.92secs, which was a championship record, that effectively secured him the bronze medal.
"It was just a mad, mad day as I never thought I had a chance of winning a bronze medal and to also win my first England vest is a dream come true," said Howorth.
I also wonder how many multi event athletes come from an endurance background? I doubt very few.