BEN Robinson raced a superb victory in the Tri-Counties Cross Country Championships staged at Bath University.
The Bristol & West AC runner (pictured left) and Josh Davis of North Somerset dominated the early stages of the race pulling clear of the field.
Robinson continued to push the pace and when Davis dropped off he was caught on the final lap by Simon Nott of Calne Running Club.
It was the first time that Ben has lifted the Tri-Counties title and it is a great way for him to end the year.
In the senior women's race the title went to Team Bath's Danish runner Katrine Svane was the surprise overall winner from Swindon Harriers' emerging young star Hannah Claydon.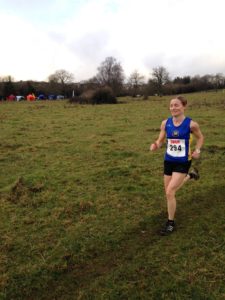 Claydon and Chippenham Harriers' new star runner Eilidh Bell led early on and had opened a gap by the end of the first to small laps.
But on the large lap Svane (pictured right on route to victory on Sunday) made her move and forged into the lead to earn her first county title with a convincing victory.
Svane also lifted the Avon title from Bristol & West's Julia Belyavin  with Fiona Blackmore of Team Bath third. Fiona also led Team Bath to the team title matching their senior men's success.
Tri-Counties Cross Country Championships, Bath University – senior men: 1 Ben Robinson (B&W) 34:12; 2 Simon Nott (Calne RC) 34:24; 3 Josh Davis (NSAC) 34:36.
AVON: 1 Robinson; 2 Davis; 3 Will Brewin. Teams: 1 Team Bath 68; 2 Westbury Harriers 77
Senior women:1 Katrine Svane (TB) 24:56; Hannah Claydon (Swin) 25:18; 3 Eilidh Bell (Chip) 25:53.
AVON: 1 Svane; 2 Julia Belyavin (B&W, W35 1st) 26:19; 3 Fiona Blackmore (TB, W35 2nd) 26:36. Teams: 1 Team Bath AC 19.