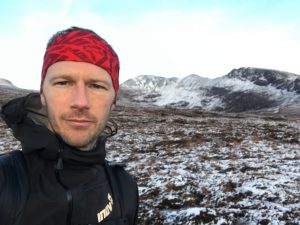 WEST Country ultra distance specialist Damian Hall has added another chapter to his burgeoning reputation as one of Britain's finest long distance runners.
Linking up with running partner Beth Pascall the Bath-based runner smashed the Fastest Know Time (FKT) record for completing the 230-mile Cape Wrath Trail, widely regarded as the toughest trails in the UK, by a staggering three days.
The pair completed the remote trail from Fort William  to Cape Wrath, the northwesternmost point in mainland Britain, including 12,000 metres of ascent, in four days nine hours and 43 minutes to eclipse the previous record of 7:09.31 set by Przemek Szapar of Poland, earlier this year.
It is Hall's second KDT record in just over two years having also set the mark of 10 days, 15 hours and 18 minutes for completing the 630-mile South West Coastpath two years ago.
Damian Hall (above) and in action on the Cape Wrath trail
He did that in the height of summer so his decision to tackle the Cape Wrath trail, which hikers usually take about three weeks to complete, in the middle of winter added another formidable obstacle – but one that Hall and Pascall relished.
 "It was very tough and while the weather was kind to us the terrain was extremely testing," said Hall.
"We were clambering over rocks and boulders, up and down ravines, across rivers and wading through bogs because in many places there wasn't an identifiable path.
"On occasions I sunk down to my waist in bogs and there was one stretch where it took us an hour to cover one mile which was pretty demoralising.
"So it was very slow going at times but the scenery was stunning and we saw some beautiful places."