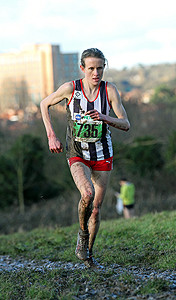 RACHEL Felton has just won the biggest prize of her running career – but she might tempted to swap that for the even bigger reward of a first Great Britain vest this weekend.
The 36-year-old Stroud & District AC runner (pictured) was confirmed as the overall winner of the runbritain Grand Prix after putting together a series consistent performances in the nominated events, culminating with fifth in the Leeds 10k last week.
The overall victory netted Felton the top prize of £3,000 which is the biggest pay day of her career and has not surprisingly put her in a buoyant mood ahead of the trials for the European Cross Country Championships in Liverpool on Saturday when a place in the GB team will be at stake.
"I was third or fourth in the runbritian series last year and I wanted to do better this time and so had my eye on top spot as it is a very nice prize," said Felton.
"It is easily the biggest prize I have ever won so it is a nice bonus."