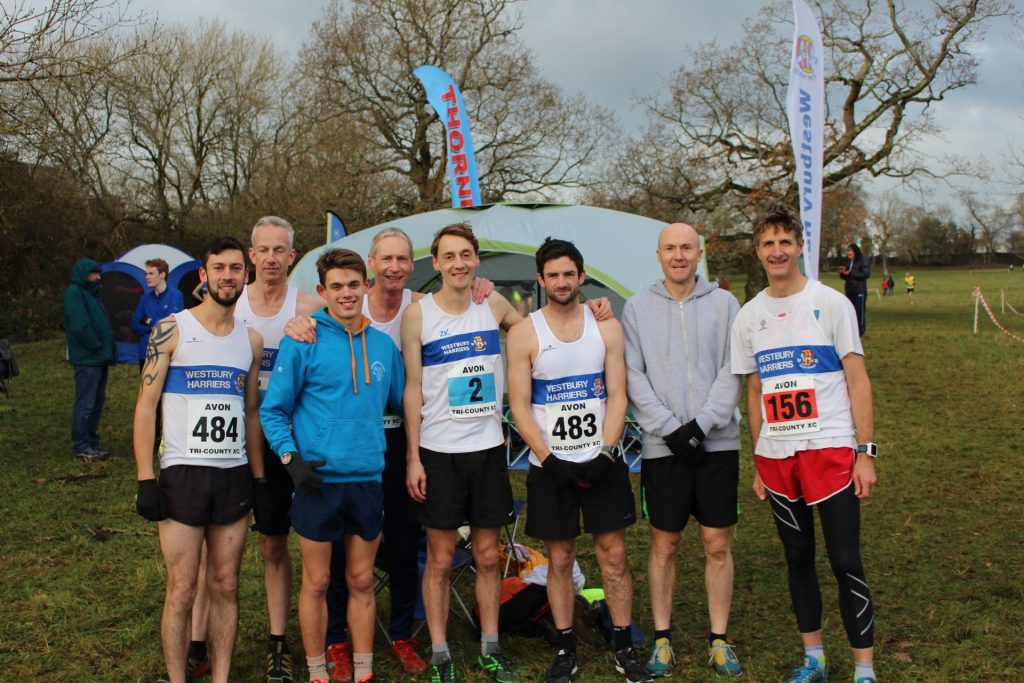 Silver lining: The Westbury Harriers senior men's squad finished runners-up
FELIX McGrath will head to the Telford 10k on Sunday with an extra bounce in his step after an emphatic victory in the Tri-Counties Cross Country Championships at Bath University.
The 25-year-old new Bristol & West AC signing ran a physically aggressive and tactically sound race to not only comprehensively beat his Avon rivals but also proved too strong for the best of Somerset and Wiltshire, including Calne's Simon Nott who had won the race for the past two years.
"I was really pleased with that and felt good during the race," said McGrath (pictured left).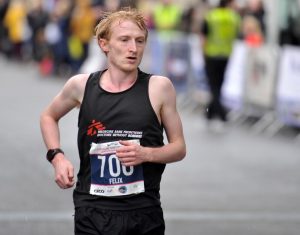 "I broke away around the halfway point but always knew that if I gave Simon Nott (who has won this race for the pat two years and was chasing a hat-trick) anything then he would be back on my shoulder so I stuck hard at it.
"I worked hard up the hills and managed to maintain a nice lead until the finish."
The course at Bath University is deceptively testing and certainly favoured McGrath, who as a teenager won an England vest on the fells when he was a member of Westbury Harriers.
McGrath also had the bonus of leading Bristol & West to victory in the team competition from defending champions Westbury Harriers and Team Bath AC in third.
Indeed, in the Avon Championships McGrath led a Bristol & West clean sweep with Kurt Taylor, racing on the country for the first time in a year and Jed Bartlett claiming the silver and bronze medals respectively.
Rob Farley, Adam Stokes and Pete Bains completed the scoring for the six-man outfit as they finished over 100 points clear of Westbury.
But the Harriers had their fair share of success with individual gold medals for Oli Beale (pictured right) in the veterans over 40s age group and Mike Mewse (V60) while Anthony Ballance was third in the over 50s age category.
Alex Hamblin had another high quality race and Tom Gange returned to cross country running after his superb run in the New York marathon.
B&W's Annabel Granger pulled off a surprise win in the Avon senior women's event as the veteran finished runner-up overall to Taunton's Alice Murray-Gourlay.
Tri Counties Cross Country Championships, Bath University (AVR=Avon Valley Runners; B&W=Bristol & West AC; CoS=City of Salisbury; CRC=Calne Running Club; MS=Millfield School; MADJA=Marlborough & District Juniors; NF=New Forest Juniors; SAC=Southampton AC; SH=Swindon Harriers; T=Taunton AC; TB=Team Bath AC; WCH=Wells City Harriers; WH=Westbury Harriers; YO=Yeovil Olympiads).
Senior women: 1 Alice Murray-Gourlay (T) 24:21; 2 Annabel Granger (B&W, W40) 25:24; 3 Natalie Thomas (Wilts) 26:13; 4 Kirstie Booth (T) 26:33; 5 Joanne Kent (Barnet) 26:43; 6 Gemma Knudsen (AVR) 26:53; 7 Lizzi Pitt (TB) 27:12; 8 Veryan Cranston (AVR) 27:12; 9 Laura James (WCH) 27:34; 10 Diane Hier (AVR) 28:36.
Teams: 1 Avon Valley Runners 35; 2 Team Bath AC 61.
AVON: 1 Granger; 2 Pitt; 3 Cath Dale (TB).
Senior men: 1 Felix McGrath (B&W) 33:14; 2 Simon Nott (CRC) 33:22; 3 Kurt Taylor (B&W) 33:48; 4 Jed Bartlett (B&W) 34:28; 5 Will Brewin (SAC) 34:34; 6 Adam Stokes (B&W) 34:59; 7 Oli Beale (WH, M40) 35:13; 8 Rob Farley (B&W) 35:27.
Teams (6 to score): 1 Bristol & West AC 33; 2 Westbury Harriers 142; 3 Team Bath AC 148; 4 Avon Valley Runners 226.
AVON: 1 McGrath; 2 Taylor; 3 Bartlett.