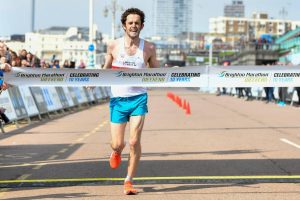 PETER Le Grice just can't put a foot a wrong at the moment.
The Bristol & West AC runner has been making his mark on the road, in particular the marathon with victory in the Brighton marathon, clocking a PB of 2:16.22 and selection for the England team to race the Frankfurt marathon in the autumn.
Add on PBs in the Vitality London 10k last month and the Bath half marathon in March and you can see a pattern; distance is best for the Cornishman.
So it was surprising to see Le Grice turn up to the British Milers' Club meeting at Exeter last weekfor a 1500m  and not just record a big PB of 4mins 2.35secs – six seconds off his five-year-old best – but also win the A race!
So his rivals might want to watch out if they are leaving a half marathon or a marathon to a sprint finish next time out.
Also at Exeter it was good to see Westbury Harrier Ellie Wallace back from America, where she is on a scholarship at Florida State University, winning the women's 800m in a time of 2:10.83.
That shaved 1.43secs off the PB she set in America earlier this season and backs up the PB of 4:31.96 she set over 1500m in the Bray Clay Invitations meeting in April.
Those times lift Wallace, who is coached by Julian Emery, to seventh over 800m and sixth over 1500m in the South West Rankings this year.
With her injury problems now behind her there is every chance that she can improve those PBs even further this summer.