BRISTOL & West AC got their promotion campaign back on track with a superb victory in the second British Men's League Division Two match on Saturday.
Bristol & West beat Cardiff AC by around 40 points at Bedford to bounce back from a disappointing opening match when they could only finish seventh of the eight clubs and climb to fourth overall at the halfway point.
"We've proven we c
an win (and) if we get the same quality team out for the last two matches we will win both and we will go up," said the men's energetic team captain Caspar Eliot.
"To that end, we need everyone available for the last two matches. Move weddings, rearrange holidays, do whatever it takes!
We can all make something special happen. "The next match is on 2nd July in Kingston so put a big circle around it in the diary.
"So, we all know that winning is great, but do you know what is even better? Winning again."
Former GB junior international sprinter Chris Stone (pictured above) ran his fastest 200m in two years with 21.10secs to win the A string, Adam Wall won the high jump with 2.05m despite his spikes falling apart and there were personal bests for Alex Daley, Gavin Vincent Phillips and Dan Studley (pictured below right).
"But man of the match has to go to the magisterial William Christofi, subbing into the B 800m and winning it, then winning the A 1500m!" added Eliot.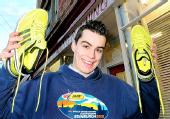 "But this was a true team performance, everyone did their bit, we all pulled together and showed we have what it takes to win in this league."
Match two results: 1 Bristol & Wes AC 328points; 2 Cardiff AC 285; 3 Swansea 280; 4 Kingston 272; 5 Kent 268; 6 Bedford 249; 7 Crawley 246; 8 Notts 244.
The overall table now looks as follows: 1 Cardiff 15 league points; 2 Swansea 13; 3 Kingston 11; 4 Bristol & West 10; 5 Kent A 8; 6 Crawley 7; 7 Bedford & County 6; 8 Notts AC 2.