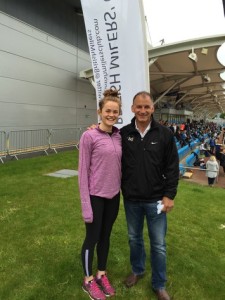 MOLLY Long has admitted her first taste of international athletics has really whetted her appetite for further success in the future.
The 18-year-old Bristol & West AC runner finished fourth in the final of the women's 800m at the European Under 20 Championships in Sweden on Saturday evening.
While there was a sense of frustration at just missing out on the medals Long was looking at the positives from her first experience of competing at a major championships.
"It was just a massive experience for me and I have learned so much," said Long.
"The girls who won the medals had all done these events before and had that experience. That is what I need more of now because it counts for such a lot.
"Hopefully I can get more of it in the future and get used to racing at that level."
Without doubt Long and her coach John Knowles can reflect on a tremendous season which has seen her win the British U20 title, improve her personal best to 2:03.32 to go top of the UK U20 Rankings and earn her debut for Great Britain for her first international championships.