CHARLOTTE Green celebrated her international for England with an impressive victory in the Manchester International.
The Bristol & West AC runner (pictured below receiving her gold medal at the Sport City Stadium in Manchester) won the 2000m steeplechase in a time of 6mins 36secs missing her personal best by just a fraction.
But on this occasion the time was irrelevant and it was the performance that mattered on her first appearance in an England vest.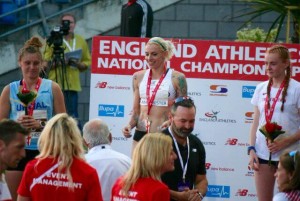 "I just missed my personal best by half a second but more importantly I won on my debut for England and also helped the team to victory over Scotland, Wales and the GB juniors," said Charlotte.
Now the former winner of the Easy Runner/Bristol Post athlete of the month competition must switch her focus to her next big event – her wedding!
Tomorrow Charlotte ties the knot with former coach Dave Taylor – Clevedon-born international James Thie now oversees her training – and this column wishes them a great day and a very happy future.