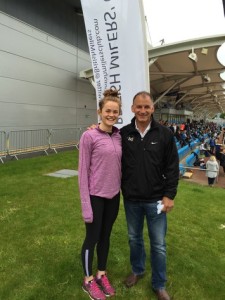 MOLLY Long knows she can't afford to be intimidated or pushed around when she makes her international debut at the European Under 20 Championships, in Sweden, today.
The 18-year-old Bristol & West AC runner is named in the first of three heats, scheduled for 2.50 local time this afternoon, with the top two in each heat and two fastest losers going through to the final on Saturday.
"Molly is the second fastest on paper in her heat so I would be disappointed if she didn't get through to the final," said coach John Knowles.
But plenty of pitfalls await in the hurly-burly of the two-lap event where a shove, push or trip can end medal ambitions in the blink of an eye, a fact Long knows only too well after being sent crashing to the track earlier this season in a British Milers' Club Grand Prix event.
"The first aim is to get into the final because once you are there anything can happen," said Long.
"Physically I may be one of the fastest in the field but you can so easily get pushed over, knocked out of your stride or just boxed in.
"I have experienced a lot of argy-bargy in 800m races this season so I am prepared for it! You have to be prepared to stand your ground and I am not afraid to do that."