JACK Millar just missed a £150 bonus after winning the latest Westbury 5k road race in a new course record.
The Bristol & West AC runner (pictured above)  won a hotly contested race from junior Max Davis, who is a member of the organising club Avon Valley Runners, in a time of 14mins 45secs.
Davis (pictured right with his first national championship medal) was just two seconds behind as he set a new club record just a week after winning the silver medal over 3000m at the English Schools' Championships.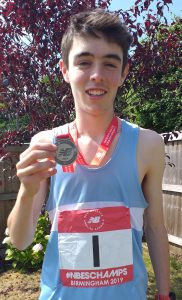 For Millar it was a quality run, which was just 12 seconds slower than his lifetime best which he set in the Armagh International 5k in February (placing him only 62nd!) but was tantalisingly shy of the goal of 14mins 45secs that the organisers set for the £150 bonus.
Third place went to Millar's B&W teammate Harry Allen with a tine of 15:09 with Owain Jones completing a strong turn-out for the club in fourth (15:23).
B&W's Olly Sheppard was 10th (16:27) with North Somerset's William Cheek 14th (17:21).
On what was clearly a lovely evening for fast times Swansea Harriers' Verity Ockenden broke the course record to win the women's race in a time of 16:02.
That was not only good enough for sixth place overall but also earned her a £150 bonus as she beat the target time of 16mins 40secs.
The race organisers have set a limit of 150 runners but strangely there were only 72 finishers but on the basis of those times this is an event that deserves a far bigger turn-out. The next fixture will be held on Tuesday August 20th