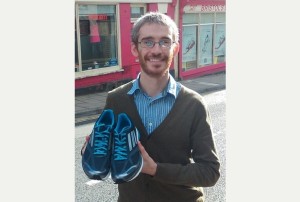 FAVOURITE to win the men's race and continue the African dominance of the race will be Moris Muene.
Muene boasts a PB of 65:41 but Bristol & West coach Keith Brackstone reckons he will go a lot quicker having recently seen him training in Kenya while on a holiday-come-research trip in Embu on the slopes of Mt Kenya.
"I was helping Moris's coach Bruce Lati and I reckon he is capable of running 61 minutes," said Brackstone.
Jarlath McKenna (pictured) was the top local runner last year in 15th and will be heading the Bristol & West challenge again along with clubmate Matt Whitfield.
Bideford runner Shaun Antell is looking to break 67 minutes for the first time and regular visitor Paul Martelletti should also figure. The first wave of runners gets underway at 9.30am with the second wave at 10am.