Podium pride: Westbury Harrier Daniel Pemble with his silver medal
TOP ten finishes by the Bristol & West AC pair of Kate Maltby and Jack Millar were the best senior performances at the opening at the British Athletics Cross Challenge, in Cardiff.
Maltby (pictured right) ran strongly to finish seventh in the women's event while Millar just crept inside the top ten
finishing ninth in the men's race with clubmate Andrew Chambers just behind in 15th.
Behind Maltby Westbury Harriers' Floren Scrafton continued her finer form with 17th place.
There were some impressive runs by the Westbury contingent tin the young athletes' races, in particular from Daniel Pemble who was runner-up in the under 11 boys' age group.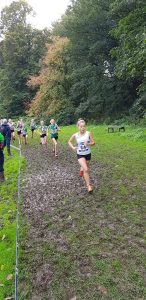 Another podium finisher was Laura Chance (pictured left) with a bronze medal in the under 13 girls' race with her clubmate Elen Ruck (pictured below right) 10th and just behind North Somerset AC's Millie Redman, who placed a creditable sixth.
Another North Somerset runner to impress was Keira Devereux, who was 11th in the under 15 girls' race.
Rosie Hamilton-Jones led a strong Westbury showing in the under 17 women's age group as she placed 15th with Kate Howard 19th and Rhiannon Paton 37th.
British Athletics Cross Challenge, Cardiff – senior men: 9 Jack Millar (B&W); 15 Andrew Chambers (B&W); 31 Ben Mitchell (B&W); 49 Ewan Paton (WH);
U20 men: 33 Sam Gentry (NS).
U17 men: 21 Alex Parsons (TB); 35 Owen Lythell (AVR); 48 Jack Gunning (Swin).
U15 boys: 18 Fletcher Hart (Swin); 24 Seamus Robinson (WH).
U13 boys: 17 Kian Dee (HRC); 22 Henry Watson (WH);
U11 boys: 2 Daniel Pemble (WH);
Senior women: 7 Kate Maltby (B&W); 17 Floren Scrafton (WH).
U17 women: 15 Rosie Hamilton-James (WH); 19 Kate Howard (WH); 35 Alice Bridger Morales (NS); 37 Rhiannon Paton (WH); 40 India Ibbotson (TB); 43 Rachel Oran (Swin).
U15 girls: 1 Kiya Dee (HWR); 9 Taya Dee (HRC); 11 Keira Devereux (NS).
U13 girls: 3 Laura Chance (WH); 6 Millie Redman (NS); 10 Elen Ruck (WH).