NOT  content with a personal best in the Standard Chartered Jersey Marathon Pete Le Grice also notched up a lifetime best over the half distance on route last weekend.
Pete Le Grice (centre) with his trophy. Football fans may recognise ex-Liverpool defender Phil Babb on the extreme left.
The stats confirm that Le Grice, who runs for Bristol & West and lives near Penzance where he helps run the family hotel, finished runner-up in a time of 2hrs 21mins 08secs.
That sliced just over two minutes off his two-year-old previous best of 2:23.16 set in London and amazingly Le Grice also recorded a massive unofficial PB of 67:40 at the half way mark. His official PB for the distance is 70mins 15secs set in Valencia this year.
"That was a lot quicker than I had ever run before and that despite 300 feet climbing between miles two and five," said Le Grice.
"But after five miles the course was flat or slightly downhill and I felt really comfortable. I led until just after halfway and was pushing the pace along. I'm not sure whether that first half was a bit too fast but I like to go out fast and I enjoyed it."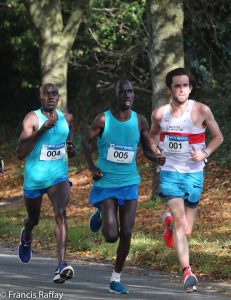 Only two Kenyans went with Le Grice with eventual champion Dan Tanui (2:19.32) proving too strong in the closing stages.
"They probably pushed on ahead at 14 miles but I caught one (Jacob Yano, 2:22.51) on the sea front as he virtually came to a stop in the wind. I struggled to along the seafront but then got going again in the last few miles."
The result certainly made up for the bitter disappointment at failing to finish the London Marathon when Le Grice paid the price for missing too much training due to injury.
"I went to Jersey to run a PB and I knew that despite the course profile I was in good enough shape to do that," he added.
"It was a great event and an amazing experience."