PETER Le Grice makes his England debut this weekend when he lines up for the Frankfurt marathon on Sunday.
The Bristol & West AC runner (pictured above) earned his international call-up after winning the Brighton marathon back in April clocking a personal best of 2hrs 16mins 22secs, which puts him 13th on the UK Rankings for 2019 and fastest in the South West.
But the 31-year-old Cornish hotelier reckons the turning point in his career came a year ago when he finished runner-up in the Jersey marathon in a time of 2:21.08, which was then also a significant PB over a challenging course.
"I think I first realised I might have a chance of winning an international vest when I finished second in Jersey," said Le Grice, pictured right during that race.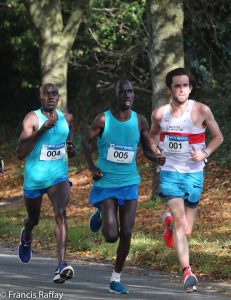 "At the time that was a PB and I also went through halfway in a huge PB as well which was quite a shock. It also meant I was hanging on for the second half but I managed to hold everything together.
"At the time I never dreamt that I would go on to run under 30 minutes for 10k or a 64minutes half marathon so it is amazing what has happened.
"But I feel I have really knuckled down and done a lot of consistent, quality training. That has been the key for me.
"I am definitely feeling a lot fitter than I did before Brighton so the aim for Frankfurt will not only be to have a good race but also run another PB.
"The course is flat and pretty well shielded being held in the city centre and with a good field so hopefully it will go well."
Le Grice has enjoyed a year to remember so far with PBs over 1500m (4:02.35), 5000m (14:30.6), 10k (29:32), the half marathon (64:21) and the marathon.
A big performance on his international debut on Sunday will be the crowning glory for this popular athlete.