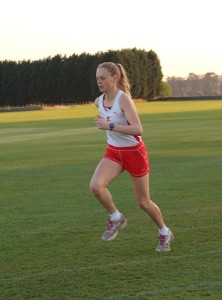 KATE Hulls scorched to a new course record in the Aztec West Fast 5k road race last night.
Hulls out-sprinted her Bristol & West AC clubmate Jenny Spink after a terrific battle over the three laps to finish in 16mins 38secs, which carved seven seconds off the previous best to earn Hulls a £50 bonus.
"I am so relieved to be getting back to form," said Hulls.
Hulls tracked Spink, who held the former record at 16:45, for almost the entire race before using her superior speed to edge ahead and win by three seconds and clock her fastest time at the distance for six years.
"It was a bit cruel really especially as she is a good team-mate but you have to race to your strengths," added Hulls.
The men's race was won by Graham Rush of Cheltenham Harriers in a time of 15mins 01secs. Rush had hoped to attack the men's record of 14:45 set by new Cheltenham clubmate Phil Wylie last month but he was left isolated and finished 28 seconds clear of North Somerset AC's Josh Davis (15:29).
Cheltenham's Harry Bishop was third in 15:30 with North Somerset's James Rodgers fourth (15:42) and former Westbury Harrier Brett Halliwell fifth in 15:48.
There were 140 finishers.