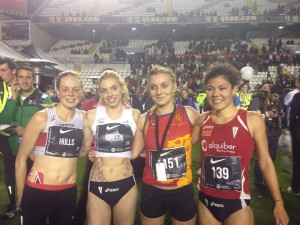 IN her first race since returning from a spell of training at altitude in the French Pyrenees Kate Hulls broke her six-year-old personal best in the Worcester 10k.
The Bristol & West AC runner (pictured far left with Charlotte Green, a Spanish runner and Floren Scrafton at an event in Madrid) finished fourth overall and easily top woman in a sizzling time of 333mins 42secs to shave two seconds off the time she ran in the 2010 Leeds Abbey Dash 10k.
The time lifts Hulls up to seventh in the UK Rankings and top of the South West ahead of Newquay Road Runners' Eleanor Davis (33:56 in Cardiff the previous week) and Jenny Spink (34:06 also in Cardiff).
It was Kate's first 10k road race this year.
The men's saw a clean sweep from the Cheltenham Harriers trio of Graham Rush , Ed Grazier and John Parker, which suggest they are going to be genuine medal contenders in the Midland 6-Stage Road Relays on Saturday.
Worcester 10k – men: 1 Graham Rush (Chelt) 30:23; 2 Ed Grazier (Chelt) 32:36; 3 John Parker (Chelt) 33:27; 4 Kate Hulls (B&W, 1st woman) 33:42. 21 Gary Standinger (B&W) 36:03;