ON day of drama on the boards in Cardiff Kate Hulls and Charlotte Green soared to second and fourth respectively on the Bristol & West AC rankings over 3000m.
The first Cardiff Met Uni Indoor Grand Prix meeting saw Kate (pictured left) pace her race to perfection to clock a winning women's time of 9mins 20.71secs.
Lying third woman in a mixed B race at 2,000m (6:21.7) Kate accelerated up to the lead girl and forged away.  She then increased her pace and caught quite a few men to finish top woman.
According to club statistician Mike Strange Kate's time has only been surpassed by 2008 Beijing Olympian Kate Reed when she clocked 9:18.95 back in 2004.
The time also smashed Kate's six-year-old PB of 9:32.1.
Denied a place in the B race a fired-up Charlotte (pictured below) was forced to drop into the C race where she was helped by some excellent pacemaking by Tom Marshall.
Charlotte relentlessly pulled away from an otherwise all male field to cross the finish in 9:36/42, which smashed her PB by 20 seconds.
"I believe that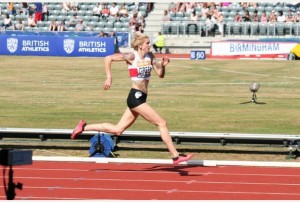 will put Char into fourth on the club all time list behind Kate & Kate and Irish International Maria Lynch," stated Strange.
In the men's 3000m Mike Wilsmore finished third in a time of 8:28.74.