BRISTOL & West AC runners Kate Maltby and Will Christofi both head to Liverpool tomorrow harbouring high hopes for the European Cross Country Championship trials.
Maltby (previously Kate Hulls) has enjoyed a terrific autumn on the road but has shown little form over the country – apart from a race in Spain where she finished a creditable eighth – so will not be mentioned among the leading contenders for a place in the squad.
Not that it bothers Kate (pictured left).
"There will be a lot of good girls there but I am hoping no-one will notice me and I can really go for it," she said. If she can perform as well as she did in the road relays then Kate will be a contender.
"I think Will has a very good chance of making the team"
Christofi (pictured right) will fly even further under the radar as far as the under 23 men's squad goes but Bristol & West team manager Mike Down say he cannot be discounted.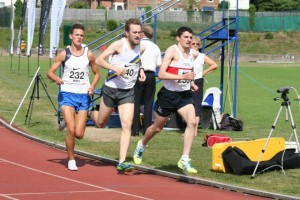 "I think Will has a very good chance of making the team for the under 23s," said Down.
"He also has this great ability of being able to peak at the right time for a big event and I think he may surprise a few people in Liverpool."
Elsewhere B&W's Owain Jones runs the senior men's race but Cheltenham's Graham Rush is likely to finish top west runner.
Wells City Harriers' Oliver Fox (U23s) and Stroud's Zoe Wassell (U20s) are two other west runners to keep an eye on.