BARELY a week goes by these days without another depressing drugs story that further tarnishes the image of the sport so it is gratifying to report a good news story about Jo Pavey.
The popular West Country Olympian, a born and bred Devonian and a life member of Bristol & West AC, this week revealed she has just received a bronze medal from the 2007 World Championships in Osaka.
"Unfortunately I'll never get that precious moment of standing on the podium in Osaka, but it's so nice to have my medal," said Pavey.
Pavey finished fourth in that fiercely contested race which was won by Ethiopia's Tirunesh Dibaba in 31mins 55.41secs. Runner-up was Ethiopian-born Elvan Abeylegesse, who was racing for Turkey, with American Kara Goucher just edging out Pavey for third.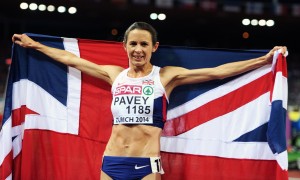 But eight years after that race Abeylegesse's sample taken after that race was retested and was found to be positive as the testers finally caught up with the cheaters.
But it took another two years, taking this saga to March 2017, before the IAAF finally confirmed her positive test and expunged all of Abeylegesse's results of that period – and promoted Pavey to the podium.
Finally, after another three years Pavey finally got her medal though the post. Fortunately husband coach Gavin arranged for her children to present her with the medal but maybe it would be a nice idea if UK Athletics arranged a proper medal presentation at its national championships for this most popular athlete.
It is the least Pavey deserves for her amazing career.