AT the fifth ti
me of asking Jenny Spink finally won the Bristol half marathon.
The Bristol & West AC runner (pictured centre with Gemima Bridge and Clara Evans) dominated her rivals to win in a time of 1hr 14mins 50secs, virtually four minutes clear of Clara Evans from Pontpridd Roadents.
I have finally won it!" beamed Spink.
"I have always wanted to win my home city race and have come close in the past."
Jenny was 13th on her debut in the old Bristol half in 2012 (80:13) and then improved to sixth in 2013 (76:55). She got up to second in 2014 (75:26) before finishing third last year (74:56).
The switch to the Great Run organisation for the 2016 event proved to be a good omen – especially as no African runners were invited – as Jenny was in a class of her own over a new course with tweaks in the closing miles to allow for roadworks which clearly made it slower.
She is the first home city runner to win the event since Olympic marathon runner Claire Hallissey in 2010.
"I had amazing support along the Portway especially from the other runners, who were cheering and clapping me on," added Jenny.
Fellow Bristol & West AC runners Lucy Macalister  – in her first race of the year – and Fiona Mark also made the top 10 in fourth and eighth respectively while ex-club member and Bristol teacher Hannah Alderson was ninth.
It was almost a perfect day for the Bristol West club as Tom Merson made a bold bid for victory in the men's race to secure a West Country double.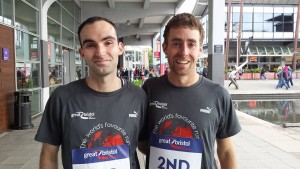 He stuck with Kent AC visitor James Connor until nine miles when the visitor upped the pace and moved clear for victory in 67mins 54secs with Merson (pictured on the right with Jack Bancroft)  second in 68:41 and Bristol-based Jack Bancroft third in 69:11.
"I tried to stick with James but he was too strong today," said Merson.
Connor last did the race four years ago when he finished fourth in a persona best of 66mins 17secs and then went  on clock a B of 2:18.26 in the Frankfurt marathon. He is off to Frankfurt again at the end of October and is aiming for a sub 2:18 time.
The Bristol & West AC pair of Jarlath McKennna and Pete le Grice also made the top 10 in fourth and fifth respectively while James Rodger of North Somerset AC was eighth.
Women: 1 Jenny Spink (B&W) 1:14:58; 2 Clara Evans (Pontypridd) 1:18.55; 3 Gemma Bridge Oxford) 1:19;47; 4 Lucy Macalister (B&W, W35) 1:20.05; 5 Julia Davis (Winchester) 1:20.43; 6 Claire Grima (Hercules Wimbledon) 1:21.09.
Men: 1 James Connor (Kent AC) 1:07.54; 2 Tom Merson (B&W) 1:08.41; 3 Jack Bancroft (Wells) 1:09.11; 4  Jarlath McKenna (B&W) 1:09.16; 6 Pete le Grice B&W) 1:10.19.