JENNY Spink smashed her personal best to finish fourth overall in the Leeds Abbey Dash 10k road race yesterday.
Jenny continued her superb autumn form, during which she won the Bristol half marathon for the first time (pictured left)  as she dipped under 34 minutes for the first time in her career with a sparkling time of 33mins 34secs in what proved to be another top class event.
"I have long wanted a 33 minutes 10k to my name and I have not just scraped under 34 minutes for the first time but gone well under," said Jenny, who is a member of Bristol & West AC.
"I am super pleased with that result."
Jenny couldn't live with eventual winner Eilish McColgan, who was clearly super motivated to run fast after being controversially excluded from the UK Athletics list of funded athletes for 2017.
The Olympian was in a class of her own as she finished 29 seconds ahead of Katrina Wootton but just behind the Coventry runner Jenny and Scotland runner Josephine Moultrie of Victoria Park were enjoyed a terrific battle for the final place on the podium.
They swapped lead a few times in a great scrap until Moultrie nudged ahead.
"I was catching her in the final straight but I just ran out of time," added Jenny, who finished just one second behind.
Nonetheless, Jenny was not only delighted with her PB but also the fact that she was awarded the silver medal behind Wootton in the English 10k Championships with both McColgan and Moultrie excluded being Scottish.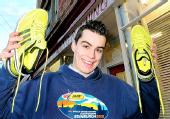 In the men's race defending champion and former Easy Runner athlete of the month Dan Studley (pictured right) couldn't repeat his heroics of a year ago having just returned from a training spell in Portugal.
Studley didn't run badly as he finished ninth in a time of 29mins 40secs – a personal best and three seconds quicker than last year.
But the 2016 event was a different race altogether, fast from the start and the top three all finishing inside 29mins 20secs, including a PB from Cheltenham's Graham Rush in third.
Studley's Bristol & West AC clubmate Ben Westhenry (pictured left) also smashed his PB by a whopping  1min 30secs to finish 20th in 30:26 while North Somerset's James Rodgers shave six seconds off the PB he set in the same race last year with 31:16.
Leeds Abbey Dash 10k – men: 1 Jonny Mellor (Liverpool) 29:12; 2 Adam Hickey (Southend) 29:15; 3 Graham Rush (Chelt) 29:16.
WEST: 9 Dan Studley (B&W) 29:40; 19 Phil Wylie (Chelt) 30:23; 20 Ben Westhenry (B&W) 30:26 (PB); 39 James Rodgers (NSAC) 31:16; 67 Mike Towler (AVR) 32:09; 78 William New (Chelt) 32:25; 85 Robert Mann (Exe) 32:34; 105 Alex Lee (Chelt) 33:11.
Women: 1 Eilish McColgan (Dundee) 32:52; 2 Katrina Wootton (Coventry) 33:21; 3 Josephine Moultrie (Victoria Park) 33:33; 4 Jenny Spink (B&W) 33:34 (PB); 5 Rebecca Hilland (TBAC) 33:48; 14 Ruth Barnes (AVR) 34:51.