JENNY Spink is back!
In her first serious race since the World Half Marathon Championships the Bristol & West AC international finished third in the Cardiff 10k yesterday.
Despite spending all summer injured after a suffering a torn calf muscle in the World Half Marathon Championship six months ago Jenny bounced back with a time of 34mins 16secs – just nine seconds outside the PB she set in the same event last year.
That is a remarkable return to form for Jenny (picture below left) and suggests that with a few more competitive races under her belt she will be back in even better shape than before the injury.
Winner of the race for
a remarkable fourth time was Stroud's Rachel Felton in 33:35 which was just 10 seconds outside her PB while Cornwall's Elea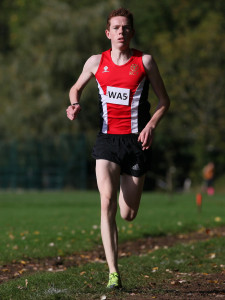 nor Davis continued her remarkable breakthrough with a massive PB of 33:56 in second.
In the men's race there were a glut of top west performances in the top ten.
Making a rare outing at the distance 19-year-old GB junior international Oliver Fox (pictured right) of Wells City Harriers smashed his personal best with 30:05 in third while in fifth was former Bristol & West runner Shaun Antell.
Owain Jones was the leading B&W runner in eighth with Tom Merson just dipping outside 31 minutes in 11th.
Cardiff 10k – men: 1 Danal Desta (Swansea) 29:45; 2 Matthew Sharpe (Chet) 29:48; 3 Oliver Fox (Wells) 30:05 (PB).
WEST: 5 Shaun Antell (Bide) 30:24; 8 Owain Jones (B&W) 30.47; 8 Dan Nash (ECH) 30:56; 9 Mark Jenkin (Bide) 30:56; 11 Tom Merson (B&W) 31.01; 11 Ronnie Richmond (Bide) 31:27; 12 Phil Burden (Taun) 31:32; 14 Will Christophi (B&W) 31.36; 16 Josh Dixon (Stroud) 31:52; 19 Colin Snook (CAC, M40 1st) 32:02; 20 James Rodgers (NSAC) 32:10; 65 Thomas Davies (TB) 34:05 (PB); 83 Dave Coales TB, M45 5th) 34:31;
Tony Wright (NRR)
Women: 1 Rachel Felton (Stroud, W35) 33:35; 2 Eleanor Davis (N&P) 33:56; 3 Jenny Spink (B&W, W35) 34.16; 4 Ruth Barnes (AVR, W35 2nd) 34:15; 10 Imogen Peck (B&W) 39.53