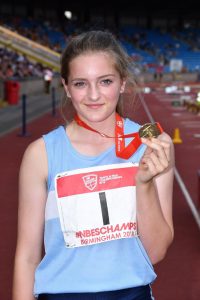 BRISTOL young athlete Jessica Lewis has been included on the short-list by a national athletics magazine for a top award thanks to her superb season.
The English Schools' junior girls' javelin champion from Whitchurch was the surprise inclusion in the 10-strong list of nominations by Athletics Weekly magazine for the best British female athlete under the age of 20.
Lewis' selection certainly caused a surprise not least because the Bristol & West AC athlete is the youngest member in contention for the award with most of her rivals being three or four years older with the majority also British junior internationals.
"It was really weird to me to make the list because I knew nothing about it until my coach (Paul Filer) told me about it," said Lewis, who is a student at the Oasis Academy John Williams in Hengrove.
"I feel honoured to be in it even though many of the other athletes are much older than me."
According to the magazine Lewis' selection was based not just on her win at the English Schools but also on the fact that she broke the long-standing championship record with a personal best throw of 43.30m which put her second on the 2018 UK Rankings for under 15 girls and ninth on the UK All-Time List.
"That was a phenomenal performance on the day," said Filer.
"Jess wasn't among the favourites for the gold because she was only ranked sixth best on distance and six weeks before the competition she developed a technical fault which meant she was throwing the javelin like a banana.
"Fortunately we sorted that out just in time and Jess again showed her ability to produce her best throws in the biggest competitions. She really is a big event competitor, a winner."
Not only that but Lewis has to contend with suffering from type one diabetes, which was first diagnosed in January 2012.
"We have to handle Jess' training workload very carefully and I have had long chats with her diabetes nurse about the issue," added Filer.
"Sometimes she can train hard for 20 minutes but then has to sit down for a rest, take some glucose tablets and let her body recover. It is a very hard balance to find.
"But in my 16 years as a coach I think she is the hardest working athlete I have ever had and she could have a very promising career in the sport.
"It would be great if as many people in Bristol could vote for Jess  as she really deserves our support."
Another local athlete who has made the AW short-list in the masters category is Bristol & West's Caroline Powell, who continued her W60 400m dominance with a golden double at the World Masters and European Masters Indoors. Powell also won medals in the two events at 60m, 100m and 200m.