IT has been a good month for Annabel Granger. In fact the 43-year-old Bristol & West athlete has enjoyed a good autumn with four major victories including the most recent, the Easy Runner sponsored Sodbury Slog on Sunday.
Granger (pictured below) was over a minute clear on Sunday as she finished 16th overall of the 1096 runners who completed the challenging course across Chipping Sodbury common and into South Gloucestershire.
That win came just seven days after her success sin the Grand Pier half marathon in Weston-super-Mare while the previous month she won the Stroud half marathon title and in September came out on top in the Cheltenham half.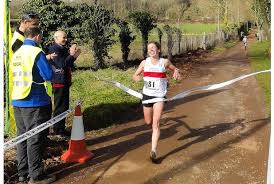 That adds up to Annabel being one of the most successful female runners in the area.
In the men's race there was a clean sweep for the University of Bristol team comprising David Green, Andy Salmon and Kit Grierson respectively.
Weston AC's Chris McMilland was fourth with Bristol & West's Ciaran McQuaide fifth.
1 Annabel Granger (B&W) 68:18; 2 Phillipa Williams (UBACCC) 69:21; 3 Gemma Hargraves (AA) 72:15;