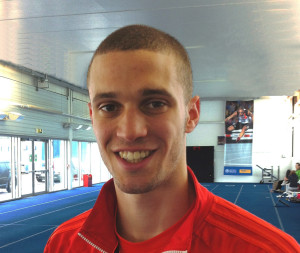 WEST sprint ace Danny Talbot knows is the time for him to deliver on the big plan for 2015.
All year both Talbot and coach Dan Cossins have insisted that the strategy was to reach peak shape for the World Championships in Beijing to ensure that the Trowbridge Tornado produces his best performances on the biggest stage.
That meant a later, more low-key start to the summer in contrast to previous seasons when their pair concluded that Talbot had passed his peak by the time of the major championships.
Today will be the first chance to see whether the pair have got it right as Talbot lines up for the heats of the men's200m and, if all goes to plan, the semi finals tomorrow and then the final on Thursday.
"In the past Danny has run his best times early in the season so this year we changed things with the aim of him hitting his peak and in shape to run a personal best at the Worlds," said Cossins.
"The plan came within 0.06secs of being absolutely perfect after finishing second in the trials so we had a slightly nervous wait before his selection was confirmed.
"But that apart everything else has gone to plan and over these last few weeks we have worked hard on sharpening up and fine-turning Danny's preparations.
"He is in great shape and has been running best times for trials we have been doing in training. That will give Danny confidence that everything is on track and he is ready to go next week."
Cossins has studied the results of all the major championships in the past 20 years and in all but one knows that if Talbot can match his best time of 20.30secs, which he ran in Switzerland last month, in the semi finals then a place in the final is a strong chance.
"If Danny can run 20.2/3 in the semis then that should be good enough to make the final," added Cossins.
"Of course we know from Usain Bolt at the Olympics in 2008 that Beijing is a really fast track so competition will be intense but this is what all the training has been about and now is the time for Danny to deliver."