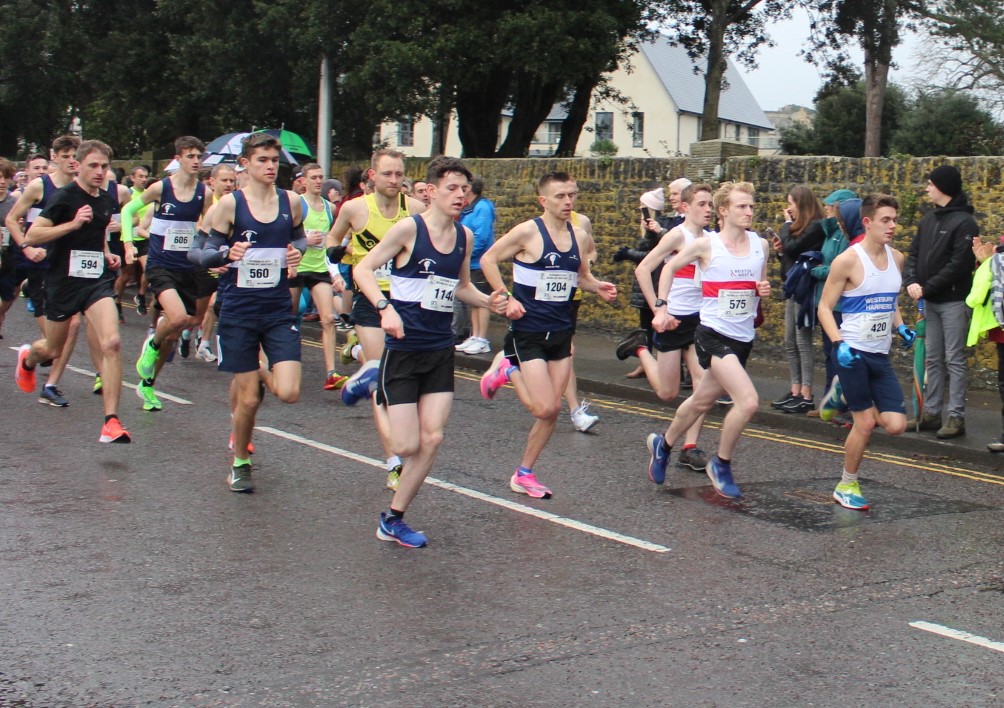 Pacesetter: Felix McGrath (575) follows Ben Rawlins (420) of Westbury Harriers with North Somerset AC's James Rodgers (1204) and Andrew Chambers (594) also to the fore in the early stages of the race. Photo courtesy of Mike Mewse and Westbury Harriers.
FELIX McGrath can reflect on an excellent year after completing 2019 with an emphatic victory in the Clevedon 4 miles road race on Boxing Day.
The Bristol & West AC athlete ran away from the field after surging clear up the hill around three miles and was then never challenged as he opened a solid lead to the finish line.
"It is probably the fourth time I have done the senior race and until now my vest was fourth place three years ago," said McGrath.
"I have been ill for the past two years so missed the race which was annoying but I made the start line this time and was pleased with my run."
It has been a good year for McGrath, who joined B&W a few months ago and he picked out three highlights from a busy twelve months.
"It has been appositive year for me and I have had some good performances and run some personal bests," said McGrath.
"Among my best I would say was my 10k PB in Cheshire in March (30mins 51secs in the Cheshire Arley Hall 10k) and the win in the Isle of Man (Easter Festival Peel Hill) fell race was another.
"But probably my best was the win in the Tri Counties Cross Country Championships."
McGrath also ran a PB time on the Clevedon 4 course although it was a lot faster than his time of 20:51 currently listed on the official race website.
"At the prize giving they said the time was 20:21 but by my watch it was 19:35 and I think a lot of runners had much quicker times than given," said McGrath.
Indeed, Clevedon AC had issued a statement explaining that there were issues with the timing system on the day.
'We're trying to rectify the issues as quick as possible. Sorry for any inconvenience,' said the statement.
Nonetheless, McGrath was clearly first from his B&W clubmate Andrew Chambers with North Somerset's James Rodgers third.
Aldershot Farnham & District international Emma Pallant extended her fine record in this race with another victory from local favourite Steph Barnes while in third was her B&W clubmate Jenny Spink.