CHARLOTTE Taylor-Green seems to be popping up everywhere these days!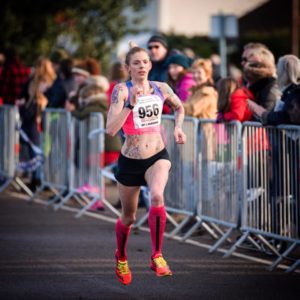 Fresh from her personal bests in the Clevedon 4 miles road race on Boxing Day and the Nos Galan 5k in Wales on New Year's Eve the Bristol & West AC athlete (pictured left at Clevedon) switched to the indoor track to help British international Laura Muir break the British record over 500m in Glasgow the other night.
Muir (pictured below) tucked in behind Taylor-Green and the 3000m field for the opening 15 laps before heading out on her own to cross the line in 14mins 49.12secs to smash Liz McColgan's record of 15:03.71 set 25 years ago.
"Originally Jenny meadows was going to do the pacing but when she dropped out James (Charlotte's coach James Thie) asked me whether I was interested," said Charlotte.
"I wasn't sure but when Kate (her team-mate Kate Maltby) said she wanted to run a good tie in the 3000m I thought I could help her as well so agreed to it and had a few days in Glasgow."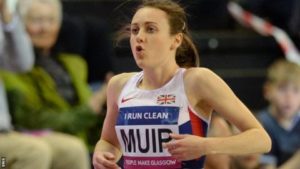 Charlotte's pace of 72seconds 400m was spot-on for the opening 1500m but then Mollie Courtney shot to the front and cranked up the pace meaning Charlotte's job was done and she stepped off the track.
"It was an amazing experience to be there and it is not every day you get asked to pace a record-breaking attempt," added Charlotte.