THE Hobbs sisters will be gunning for glory at the English Schools' Cross Country Championships in Nottingham tomorrow.
Ellie was runner-up in the South West Schools' and the 14-year-old wil be looking to improve her excellent 14th in the junior girls' age group last year.
Older sist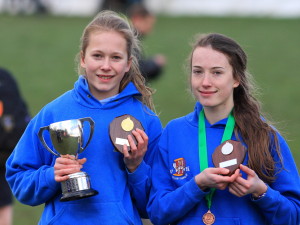 er Hannah was also a silver medal winner at the South West but in the inter girls' race and the 16-year-old will also be looking to better her 25th place a year ago.
The sisters (pictured left), who are member of Westbury Harriers and coached by Pat Gallagher, are two of Avon's brightest hopes but other names to look out for include Abdi Hasan in the junior boys, Hugh Sadler in the inter boys and both Ellie Wallace and Ellie Leather in the senior girls.
AVON TEAM
Junior Boys
Abdifataah Hasan, Sam Gentry, Jack Wilkinson, Stan Harding-Hill, Bryn Davies, Nathan Marchant, Jack Bannister, Justin Davies, Greg Hayward, James Harrod,
Intermediate Boys
Hugh Sadler, Aidan Noble, Themis Bower, Sean Barry, Max Davis, Callum Smith, Oliver Weedon, Ben Cureton, Otis Harding-Hill, Richard Anthony, Joe Leather,
Senior Boys
David Warnes, Joe Gentry, Michael Proffitt, Harry Leeming, Joe Connors, Joseph Blakeley, Eddie Narbett, Harry Buchanan, George Marshall,
Junior Girls
Ellie Hobbs, Katie Jones, Enya Maylor, Eleanor Webster, Isabel Smart, Charlotte Livesey, Claudia Spice, Rosie Hamilton-James, Rosie Whitehead, Emily Whittaker, Rhiannon Paton,
Intermediate Girls
Hannah Hobbs, Imogen Maroney, Olivia Burton, Stephanie Cummins, Sophie Reed, Nancy Dineen, Rosie Allen, Lizzie White, Anna Burt, Olivia Crofts, Harriet Lambe, Phoebe Gould,
Senior Girls
Ellie Wallace, Ellie Leather, Ella Brimble, Cecilie Andersen, Alys Withers, Emma Taylor, Emma Jones, Angharad Flower, Harriet Moore, Emma Narbett, Georgia Taylor, Emma Tomes,