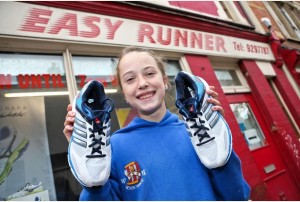 WESTBURY Harriers' young athletes enjoyed a flying start to the new Gwent Cross Country League season at Bridgend.
The club celebrated the first match with four victories as Seamus Robinson (U11 boys), Abdifataah Hasan (U15 boys), Ruby Saunders (U11 girls) and Hannah Hobbs (U17 girls and pictured) all ran superbly to win their races.
In addition there were second places for Aidan Noble (U15 boys), Amelia Honor (U11 girls) and Kate Howard (U13 girls).