THE new 2016/17 series of the Aztec West Fast 5K Series, will get underway on Tuesday 27th September.
The series, which is sponsored by Easy Runne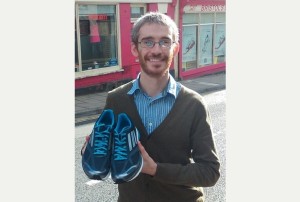 r, has established itself as one of the best 5k events in the west country with the flat, three-la course offering the perfect opportunity for personal bests.
The start of the new series will also be the occasion for the presentation of the prizes for the summer series  with £50 vouchers courtesy of Easy Runner being awarded to Mark Fallows and Danielle Phillips.
The other winners, who will all collect trophies on the evening if they are available, are as follows: Senior women: 1 Fiona Marks; 2 Danielle Phillips; 3 Rebecca White.
W35: 1 Alice Doggrell; 2 Katie Hooper.
W45: 1 Tracy Allan; 2 Judy Knights.
W55: 1 Nicola Waters.
Senior men: 1 Oliver Mott; 2 Jarlath McKenna (top right); 3 David Awde.
M40: 1 Mark Fallows; 2 Andy Prophett.
M45: 1 Pete Clark; 2 Richard Noble.
M50: 1 Jeremy Mower; 2 Bruce Sellars.
M55: 1 Neil Maston; 2 Jonathon Goodland.
M60: 1 Arthur Daley; 2 Peter England.
Under 17 men: 1 Aidan Noble (above left).