WELL done to Wells City Harrier Oliver Fox for being selected to fly the west country flag  at the European Cross Country Championships in France on Sunday December 13th.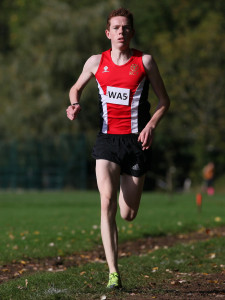 "I am absolutely delighted as this will be my international championship debut," said Fox, who is the only west athlete to have made the 36-strong squad.
The 19-year-old from Wedmore, Somerset, secured his place in the team after finishing fifth in the under 20 men's trials race at Liverpool last weekend.
That was an excellent run especially taking into account that Fox has had to endure some big changes in his life moving out of home for the first time to start a medical degree at Cambridge University – and training is different too.
"It is so flat around in Cambridge compared to running over the Mendips!" added Fox.
The British Athletics' team for the European Cross Country Championships in Hyères, France on Sunday 13 December 2015:
Senior men
Dewi Griffiths (Kevin Evans)
Jonny Hay (Mick Woods)
Adam Hickey (Eamonn Martin)
Tom Lancashire (Steve Vernon)
Ross Millington (Steve Vernon)
Jonathan Taylor (Gordon Surtees)
Senior women
Kate Avery (Tony Simmons)
Lauren Howarth (Steve Vernon)
Sonia Samuels (Self-coached)
Gemma Steel (John Nuttall)
Steph Twell (Mick Woods)
Elle Vernon (Steve Vernon)
U23 men
Jacob Allen (Mick Woods)
Jonathan Davies (Rob McKim)
Richard Goodman (Mick Woods)
Henry Pearce (George Gandy)
Marc Scott (Steve Gulley)
Luke Traynor (Dudley Walker)
U23 women
Beth Hawling (Matt Richards)
Laura Muir (Andy Young)
Jenny Nesbitt (David Walker)
Madeleine Murray (John Lees)
Rebecca Murray (Alex Stanton)
Alice Wright (David Walker)
Junior men
Ben Dijkstra (Alan Maddocks)
Oliver Fox (Richard Llewellyn Eaton)
Mahamed Mahamed (Peter Haynes)
Chris Olley (Mark Hookway)
Joe Steward (Harry Kelly)
Alex Yee (Kenneth Pike)
Junior women
Grace Baker (Mick Woods)
Bobby Clay (Rob Denmark)
Amy Griffiths (Mick Woods)
Harriet Knowles-Jones (Paul Roden)
Sabrina Sinha (Peter Mullervy)
Mari Smith (William Alan Winter)