BRISTOL & West AC life member Jo Pavey admits she can still hardly believe that she will be competing in her fifth successive Olympic Games in Rio.
The Olympics officially get underway tonight with the opening ceremony but Jo is not in action until the end of next week when the athletics programme starts.
The 42-year-old Devonian (pictured left) becom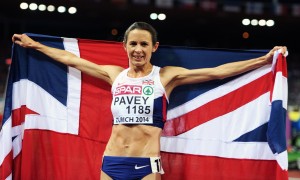 es not only the first British female runner to compete in five Olympics but also the oldest British woman to run underlining her status as the west's greatest ever Olympian and that is an achievement she deeply appreciates.
"I feel really fortunate about going to my fifth Games," said Pavey, who used to live in Bristol and was coached by Mike Down at that time.
"I remember when London was awarded the Olympics in 2005, I thought I'd be too old in 2012 and I'd probably be retired and that it would have been nice to compete in a home Games – I didn't think I'd even be considering doing the one after that.
"It's something I thought would never happen and I feel really honoured to have that opportunity."