BRISTOL & West AC's senior men maintained their proud record in the Saucony English Cross Country Relays with a hard-earned fifth place – a repeat of the performance in 2017.
The squad of Jack Millar (pictured left), Will Christofi, Owain Jones and Pete Le Grice (pictured below right)  paced their effort well as they moved steadily through the field with each successive leg without ever looking like they would break into the to three.
Millar gave the team a solid start in ninth as he clocked the club's fastest time of the day with 15mins 14secs and Christofi gained two places to bring B&W into seventh at halfway.
Jones gained another place and then in-form Le Grice, who has been in sizzling form on the road of late, brought the quartet up into fifth 37 seconds off a place on the podium.
Nonetheless, after the disappointment of the National Six Stage Relays this was an encouraging performance by the team and extended the club's impressive record in the event.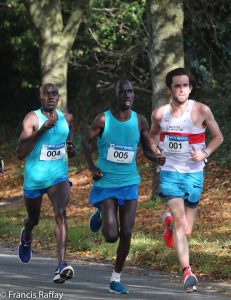 "Our record since the club's rebranding 15 years ago has been more than respectable, having taken the bronze medals twice in 2008 and 2016 as well as finishing third team in 2012 before being disqualified on a technical error," said team manager Mike Down.
"While we did not contest the race in 2013, our consistently impressive record over the past four years has confirmed our position among the top six clubs in the country, finishing 4th in 2014, 6th in 2015, 3rd as already mentioned in 2016, and 5th last year."
The club's second string of Josh Moody,Harry Allen, Kurt Taylor and Jack Bancroft finished 20th overall and fourth B team.
Senior men: 1 Leeds City 60mins 22secs; 2 Aldershot Farnham & District 60:53; 3 Birchfield 61:26; 4 Tonbridge 61:36; 5 Bristol & West AC 62:03 1(5:14.70 (9) J Millar 15:40.55 (7) W Christofi 15:33.10 (6) O Jones 15:34.90 (5) P Le Grice).
20th 01:04:49.150 33 Bristol and West AC 'B' 00:16:17.95 (47) J Moody 00:15:53.35 (27) H Allen 00:16:09.75 (22) K Taylor 00:16:28.10 (20) J Bancroft