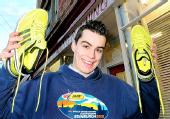 THE difference between running 10k on the road and cross country was no better illustrated than at the British Cross Challenge, in Liverpool, on Saturday.
Two weeks ago Bristol & West's Dan Studley won the Leeds Abbey Dash 10k road title, which incorporated the England Championships, with Welshman Dewi Griffiths second.
On Saturday Griffiths was second again to book his ticket for the European Cross Country Championships but Studley had to settle for 22nd place.
Not a bad run at all for the 23-year-old – a big improvement on 72nd the previous year – but it just show how some runner perform better on different surfaces.