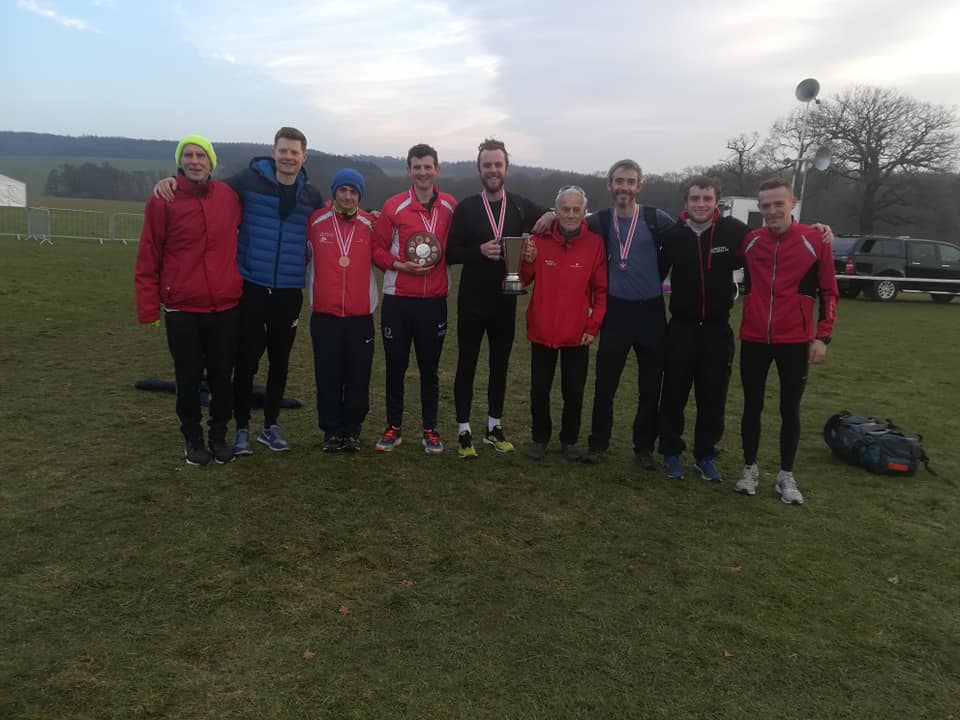 Glory boys (L to R): team manager Chris Elson, Harry Allen, Will Christofi, Jack Millar, Josh Moody, Mike Down, team manager, Jarlath McKenna, Andy Watt and Joe Ballard.
BRISTOL & West AC's senior men made the podium for a second successive year as they finished third in the Saucony English National Cross Country Championships held at Harewood House, Leeds, on Saturday.
The six-strong squad, led home to Peter Le Grice in 18th, scored 313 points to just hold off Bedford & County by four points.
"It was very, very close and we actually didn't think we had won a medal this time," said team manager Mike Down.
Le Grice committed himself from the gun and kept his form well over a testing, hilly  course that was pretty fast underfoot to make the top 20 while Jack Millar, Will Christofi and Jarlath Mckenna also made the top fifty.
Josh Moody ran superbly for a career-best 84th and the scoring was completed by team captain Owain Jones, who despite being well below his best following a calf injury battled his way to the finish to score those vital final points to keep Bedford at bay.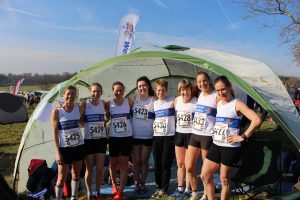 The club's men also scooped the bronze medals in the nine-scoring runners category, with Leeds and Tonbridge again dominating and also won the Founders' Cup as the highest placed club from those who first staged this awe-inspiring event in 1884.
The club's women also fared well with the team of  Kate Maltby, Natalie Griffiths, Isabelle Talbot Price and Catie O'Donoghue placing seventh.
The Westbury Harriers women (pictured above right) finished 33rd with Katie Hughes just missing out on a top 100 spot in 102nd.
Individually one of the finest performances of the day in the other races came from Westbury Harriers' Ellie Hobbs, who is pictured below powerfully striding out by club official and photographer Neil Miller
Hobbs finished 16th in the under 17 women's age group – and note that mum Maria was 558th in the senior women's race!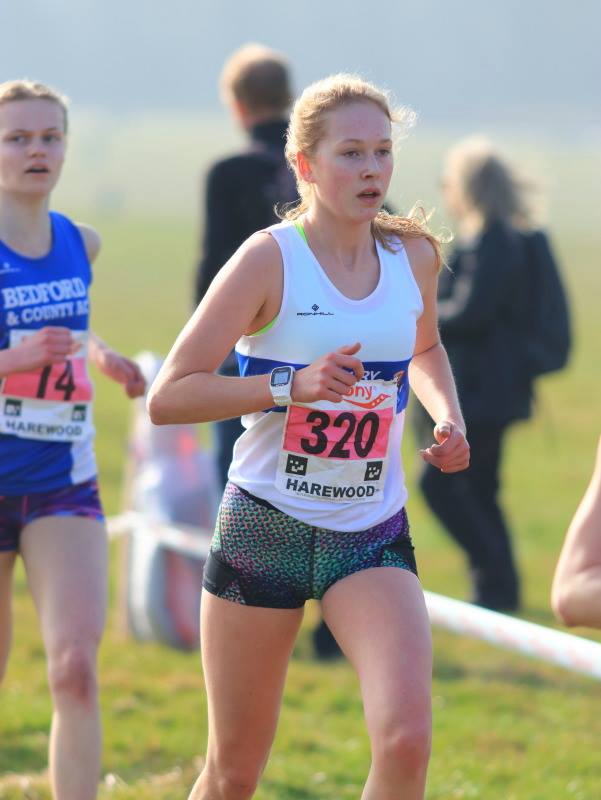 Behind Ellie in 36th there was a strong run by clubmate Rosie Hamilton-James.
There was a terrific performance by the young men from North Somerset AC in the Under 17s age group as the squad of Sam Gentry, Matthew Howard, Alfie Hocking and Ben Hamblin finished sixth.
Elsewhere from across the west country Exeter Harriers' rookie Scarlet Livingstone was crowned under 13 girls' champion and Taunton AC's Joe Ponter was eighth in the under 15 boys' race, in which Westbury's Seamus Robinson was a highly creditable 24th.
GB junior international Grace Brock of Cornwall AC was third in the under 20 women's race and Bath-based Max Davios, who competes for Avon Valley Runners, was 31st in the under 20 men's age group.
Saucony English National Cross Country Championships, Harewood House, Leeds – senior men
Teams (six to score): 1 Leeds City AC 110pts; 2 Tonbridge 191; 3 Bristol & West AC 313 (18 Peter Le Grice; 32 Jack Millar; 37 Will Christofi; 41 Jarlath McKenna; 84 Josh Moody; 101 Owain Jones); Also: 135 Harry Allen; 179 Andrew Watt; 202 Richard Peters; 203 Alberto Beltran; 239 Miles Chandler; 4 Bedford 317.
Others – Did not finish a team: Team Bath: 246 Dan Jones; 323 James Donald; 427 Thomas Davies; 654 Eliot Ball; 981 Chris Milbourne)
Teams of nine: 1 Leeds 410; 2 Tonbridge 442; 3 Bristol & West 829.
Junior men: 31 Max Davis (AVR) 30:14; 46 Will Crudgington (TB) 30:47.
U17 men  – Teams: 6 North Somerset AC 247 (34 Sam Gentry; 35 Matthew Howard; 79 Alfie Hocking; 99 Ben Hamblin).
13 Bristol & West AC 538 (71 Fred Hawker; 139 Oliver Harper; 153 Luke Iles; 175 Nathan Marchant).
U15 boys: 8 Joe Ponter (Taunton); 24 Seamus Robinson (WH).
Teams: 23 North Somerset AC 733 (164 William Scott; 168 William Maine; 187 Louie Brunsdon; 214 Ollie Campbell).
U13 boys: 30 Dylan Stoneman (TB).
Teams: 22 Bristol & West 572 (108 Tomek Czerepinski; 136 Jay Hunt; 163 Iashmael Bradley; 165 Nicholas Pestell).
Senior women – Teams: 7 Bristol & West AC 246 (30 Kate Maltby; 49 Natalie Griffiths; 75 Isabelle Talbot Price; 92 Catie O'Donoghue).Others: 110 Ellen Harrison; 214 Katrina Entwistle.
33 Westbury Harriers 1098 (102 Katie Hughes; 238 Robyn Ellis; 332 Alison Rogers; 426 Emma Woodworth).Others 428 Abigail Hall; 558 Maria Hobbs; 639 Helen Sawyer; 926 Marilyn Palmer.
37 Avon Valley Runners 1225 (218 Bethan Francis; 245 Gemma Lawton; 262 Veryan Cranston; 500 Rebecca Beck).
U20 women: 3 Grace Brock (CAC).
U17 women: 16 Ellie Hobbs (WH); 36 Rosie Hamilton-James; 90 India Ibbotson (TB);
U15 girls: 1 Holly Weedall (Vale Royal) 15:03; 2 Kiya Deee (Highworth RC) 15:11; 61 Taya Dee (HRC).
Teams: 37 North Somerset AC 1159 (253 Holly Avery; 282 Mary Hemmings; 300 Constance Rawlins; 324 Abigail Taylor).
U13 girls: 1 Scarlet Livingstone (Exeter).
Teams: 16 North Somerset AC ( 46 Keira Devereux; 93 Millie Redman; 192 Olivia Maidment; 196 Blythe Jones).