BRISTOL & West AC's fifth place in the senior men's event at the Saucony English Cross Country Relays once again underlined their consistency – but also the difficult of breaking into the top three.
Team manager Mike Down had nothing but praise for the quartet who performed so admirably on Saturday but is realistic enough to know what is also needed to star challenging for medals on a regular basis.
"One cannot help but be frustrated at a record that sees us forever falling just short of the promised land," said Down.
"Just reflect on our results over the last five years: 2014 4th, 2015 6th; 2016 3rd; 2017 5th; 2018 5th. Our failure to find the winning formula is open to question. Perhaps the fact that we have rarely fielded anything like that same quartet has something to do with it.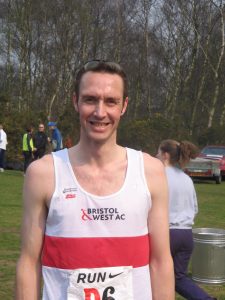 "But a more likely explanation is that we have lacked the one runner such as our all-time fastest Rob Whalley (14:49) as in all five years our runners' times have all been remarkably close without any real standouts.
"This year again, bearing in mind that the first leg is up to 10 seconds shorter, our four times were all within approximately a quarter of a minute of each other.
Right: Former British international Rob Whalley, now retired
"Once again our overall time was almost spot on the 15:30 average that invariably ensures a top six finish. In fact we were just three seconds short of that target, but actually marginally faster than when we took the bronze medals two years ago."
That reflects not just the standard of the event but on Saturday the fact that the conditions were super fast with barely a hint of mud to slow down the track men.
"The harsh reality is that to have any hope of winning the event we need to be up to some 20 seconds a man faster," added Down.
"While that may seem beyond us at present, the availability of our international pair Dan Studley and a fit again Rich Peters could feasibly make the difference as of course might the continued progress of our talented younger runners Will Christofi, Jack Millar, Harry Allen and Kurt Taylor.
"So this is no time for despondency as the players needed to go that extra mile are possibly already in our ranks. Everyone just has to work that little bit harder and perhaps be more selective in their racing programmes."