BRISTOL & West AC senior men's team manager Mike Down has revealed one of the key reasons behind the club's continued run of success this year.
The team's latest triumph came at the Midland Counties 12-Stage Road Relay title in Birmingham last weekend as they extended their stranglehold on the event with their fourth successive victory.
Coming fast on the back of a tremendous cross country season which saw team bronze medals at the England and Midland Championships plus another successful defence of their South West crown and Saturday's success was further confirmation of the current strength of the squad.
"We now have a really good hard core of runners who live in and around Bristol and regularly train together," said Down.
"They are home-based and that has helped engender a great team spirit and camaraderie and it is interesting to see just how much some of these runners have improved over the past year or so.
"Indeed, since the autumn we have built up a real head of steam and can now look forward to the National Road Relays a week on Saturday with a lot of confidence."
Bristol & West's victory means they have now won the men's title six times to go third on the all-time list behind traditional Birmingham giants Tipton Harriers and Birchfield Harriers.
It was the latter club who again chased Bristol & West to the finish line in what proved to be another close-fought competition that was left in the balance until the 12th and final stage.
"In almost uncanny deja-vu of last year's thrilling finish Birchfield had closed the gap to 37 seconds at the final changeover, and as if in anticipation had recruited 2016 Rio Olympian Elliot Giles to deal the coup de gras," added Down.
"But cometh the hour riseth the man, and while Jack Millar may not possess the same pedigree as his international rival in hot pursuit, he has not only developed during his spell at university into one of the most improved runners of his age in the country, but also learnt to race with his head as well as his heart."
With strong partisan support Giles tore into Millar's lead and within two miles had cut the advantage to inside 10 seconds. But the 800m specialist had given too much, too early while Millar kept his nerve before unleashing a powerful final mile to open the lead again to 13 seconds and cap a rousing victory.
"All credit to Jack for rising to the occasion," said Down.
"It's a confidence too that the rest of our jubilant team can benefit from as we head for the Blue Riband of the road relay season back at Sutton Park on Saturday week.
"The Leeds, Tonbridge, Aldershot, Cardiff and Swansea squads may be faster on paper, but we have been improving year on year and can more than match their desire to go the extra mile to success."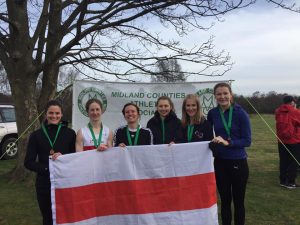 Bristol & West's women also made the podium with the squad of Natalie Griffiths, Rosie Hattersley, Catie O'Donoghue, Katrina Entwistle, Clare Jolliffe and Becky Pierce finishing third.
"It was a good effort by the team and also nice to see us field four teams, which is the most we have ever had in the event," said team manager Keith Brackstone.
With the men also finishing three teams the club is certainly looking in good health.
Midland Counties 12-Stage Road relay Championships, Sutton Park, Birmingham: 1 Bristol & West AC 3:55:33 (       Harry Allen     (2) 26:27, Andy Watt       (3) 28:02, Jarlath Mckenna (2) 27:12, William Christof (2) 26:59, Owain Jones     (2) 15:48, Richard Peters   (2) 16:02, Kurt Taylor     (2) 15:43, Maciej Bialogonski (2) 15:52, Josh Moody       (2) 15:54,         Jed Bartlett     (1) 16:15, Callum Jones     (1) 15:56, Jack Millar     (1) 15:23).
2 Birchfield Harriers 3:55:46; 3 Notts AC 3:57.10.
8 Bristol & West AC B 4:17:53; 23 Bristol & West AC   'C' 4:34:49; 41 Bitton Road Runners 5:02:48.
Fastest – long stages: 1 Douglas Musson     NottsAc   A   25:59; 5 Harry Allen 26:27; 8 Will Christofi 26:59.
Short stages: 1 Elliot Giles       Birchfield A   14:59; 3 Jack Millar 15:23; 4 Kurt Taylor 15:43; 5 Owain Jones 15:48; 8=Josh Moody 15:54.
Women's 6-Stage: 1 Birchfield Harriers   2:12:51; 2 Wolverhampton & Bilston     2:23:24; 3 Bristol & West AC             2:23:53 ( Natalie Griffiths (3) 31:32, Rosie Hattersley (3) 19:16, Catie O'Donoghue (2) 33:54, Katrina Entwistle (2) 19:45,        Clare Jolliffe   (3) 19:34, Becky Pierce     (3) 19:52).
12   Bristol & West AC             'B' 2:33:30; 15   Bitton Road Runners               2:35:41; 20   Bristol & West AC             'C' 2:41:18; 33   Bristol & West AC             'D' 2:57:30.
Fastest – long stages: 1 Hayley Carruthers (Birch) 28:52; 4 Natalie Griffiths 31:32.
Short: 1 Bryony Gunn (Birch) 17:31; 9 Rosie Hattersley 19:16.