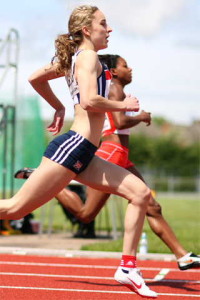 EMILY Diamond can now start fine-tuning her build-up for the World Athletics Championships in Doha after securing her place in the Great Britain team.
The Bristol & West AC international secured an automatic spot in the squad after finishing runner-up at the Muller British Championships, which incorporated the World trials, in Birmingham last weekend having already run inside the official qualifying standard.
"It feels super nice to have that automatic qualification place instead of facing a nervous week waiting to see if the selectors think you deserve a spot in the team," said Diamond.
"I knew the top two would get automatic selection so that was the aim for the trials and I always knew it was going to be very close but just managed it."
Laviai Nielsen of Enfield & Haringey won the title in a time of 52.04secs with Diamond on 52.39secs, just 0.13secs clear of Thames Valley Harrier Zoey Clark, who has yet to run the qualifying standard of 51.80secs.
Diamond, a former student at Bristol Grammar School, will also feature in the women's 4x400m relay, the event in which she won a silver medal at the World Championships in London two years ago.
"It would be great to win another medal in that event," she added.