THE results from the Leeds Abbey Dash 10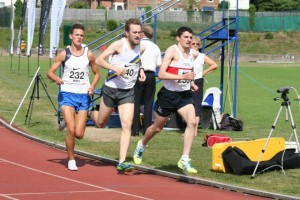 k have shaken up the South West Rankings for 2015.
Bristol & West AC's Dan Studley was rewarded for winning the race in a PB of 29mins 43secs by soaring into top spot ahead of  his former clubmate Phil Wylie.
Further PBs by Will Christofi (30:55 and pictured) and Adam Speake (31:32) lifted them to ninth and 17th respectively.
Selected west results: 31 Shaun Antell (Bide) 30:51; 32 Willl Christofi (B&W, U23) 30:55); 33 Owain Jones (B&W) 30:54; 51 James Rodgers (NSAC) 31:22 (PB); 56 Adam Speake (B&W, U23) 31:32; 68 Josh Davis (NSAC) 31:46 (PB)