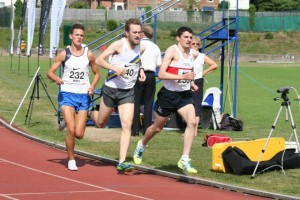 IT has been a long time since Bristol & West AC's men have had to play second fiddle to a rival west club in the Midland Counties Road Relay Championships but that is what happened in the 6-Stage event on Saturday.
Cheltenham Harriers denied them a place on the podium as they finished third with B&W a distant fourth.
"We had a nightmare with both teams at the weekend as it was probably the worst we have ever had with runners dropping out at the last minute," said team manager Mike Down.
"In the men's squad only Will Christofi (pictured) survived from the original selection so I certainly didn't expect us to finish as high as fourth. It was also good to see the B team finish 12th and qualify for the National Championships."
Christofi was the club's quickest runner with 17mins 50secs on the opening stage, the only local runner to break 18 minutes.
Midland Counties 6-Stage Road Relay Championships, Sutton Park – men 1 Notts AC 1:49.14; 2 Tipton 1:51.08; 3 Cheltenham Harriers 1:51.17; 4 Bristol & West AC 1:52.40 (Will Christofi 17:50, Adam Speake 18:50, Jarlath McKenna 18:42, Ben Robinson 19:06, Mark Edwards 19:00, Benedict Westhenry 19:12);
12 Bristol & West AC B 2:00.40; 21 Team Bath AC 2:01.26 (Tommy Davies 19:48, Dan Jones 19:58, George Frost 19:52, Mike Dooley 20:29, Dave Coales 20:29, Mike Blackmore 20:50).
39 Clevedon AC 2:07.10 (Alex Crossland 20:02, Luke Murray 19:59, Matt Crocker 21:55, Andy Heyes 22:18, Paul Bird 21:56, Clive Richards 21:00).
52 Westbury Harriers 2:11.57 (Kevin Knights 24:58, Felix McGrath 19:25, Adam Wilson 20:38, Dan Ewing 21:38 Colin Johnson 23:13, Jullian Bailey-Gard 22:05).