CHARLOTTE Green leapt to fourth in the South West Rankings after breaking her personal best over 800m in the British Milers' Club meeting in Watford on Wednesday.
The Bristol & West AC runner (pictured below) clocked 2mins 06.96secs to finish second in the B race and slice 0.75secs off her 2015 best.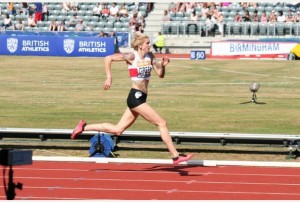 Green will now be looking to improve her 1500m best of 4:23.72, which she also set last season.
But there was further disappointment for clubmate Dan Studley as he could only finish 14th in the 1500m B race in 3:51.8.