ALSO on the women's 1500m scene Charlotte Green continued her fine form to finis h fifth at the England Athletics Championships in Bedford.
The Bristol & West runner (pictured on the left) ran 4:26.08 in the heats and 4:30.57 in the final to finish top west athlete ahead of Mia O'Connell (Cheltenham) and Team Bath's English Schools' silver medallist Gemma Shepherd (pictured right).
Sprinter Theo Campbell and Steve Mitchell both finished fourth in the 200m and 3000m steeplechase respectively, Alex Daley was sixth in the 400m hurdles and Mike Wilsmore eighth in the mile.
In the women's field events Christina Jones wa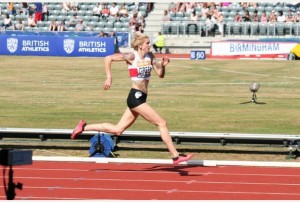 s fourth in the hammer and Rownita Marston sixth in the shot.
England Athletics Championships, Bedford (selected west performances)– senior men 100 hts: Daniel Trueman (Stroud) 11.00; 200: 4 Theo Campbell (B&W) 61.61; hts Trueman 22.00; 400hts: Casper Eliot (B&W) 49.62; 400H: 6 Alex Daley (B&W) 54.63 (hts 53.91); Mile: 8 Mike Wilsmore (B&W) 4:11.35; 3000S/C: 3 Phil Norman (NDAC) 9:12.71; 4 Steve Mitchell (B&W) 9:16.71; Jav: 7 Steve Turnock (Exe) 61.98.
Senior women- 100hts: Catherine Hardy (Glos) 12.30; Yvette Westwood (Yate) 12.14; 200s/f: Hardy 25.83; 1500: 5 Charlotte Green (B&W) 4:30.57 (hts 4:26.08); 6 Mia O'Connell (Chelt) 4:30.90 (hts 4:30.27); 8 Gemma Shepherd (TBAC) 4:32.66 (hts 4:30.43); 9 Naomi Taschimowitz (Taun) 4:33.93 (hts 4:26.65); 3000S/C: 2 Emily Smith (Wells) 10:52.96; 100H:4 Mollie Courtney (Chelt) 13.94 (0.01secs off bronze) (hts 13.99); hts: Hannah Jackson 15.06; HJ: 2 Courtney (Chelt) 1.74; SP: 6 Rownita Martson (B&W) 12.75; Hammer: 4 Christina Jones 59.30 (61.61); Hts Charlotte Stallard (Glos) 45.68; Beth Sewell (Glos) 40.73.