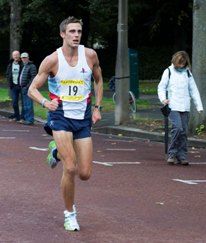 FORMER Bristol & West AC runner Tom Kingsnorth, who is now with St Edmunds Pacers in Suffolk, is asking for support as she seeks to raise money for one of his ex-club colleagues.
Tom will be running the London Marathon in April 2017, as well as the Snowdonia Trail Marathon in July 2017, where he will be raising money for two charities one of which is the charity that has been supporting Robbie Bugden, the Barbara Bus Fund. 
As many Bristol and west runners will be aware Robbie (pictured left racing for the RAF) suffered an horrendous accident last year which has left the former international severely disabled and fighting to walk again after a near fatal parachute accident in his role as a Royal Air Force parachute training instructor.
If you would wish to support Tom in his fundraising efforts the link to his fundraising page is https://www.justgiving.com/fundraising/Tom-Kingsnorth-Barbara-Bus-Fund.