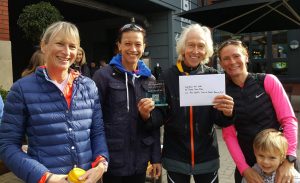 SOPHIE Voller emerged as a very satisfied double champion in the Kenysham 10k race staged on Sunday.
Voller not only scooped the first women's prize but also led Westbury Harriers to the team prize with excellent support from Robyn Ellis in second and Judy Knights (49:16).
Team gold: The Wesbury Harriers squad of (L to R) Judy Knights, Sophie Voller and Roby Ellis received their prize from former Olympian Nick Rose
Leading Harrier in the men's race, which was organised by Bitton Road Runners, was the fast improving Jack Derrick in ninth (39.18) just ahead of Ewan Paton (2nd V40 39.25).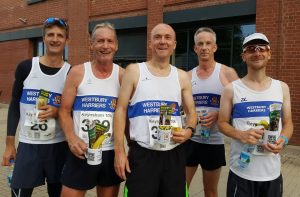 Anthony Ballance followed up his fine run in the Bristol half marathon with 1st place in over 50s category while there were also good runs from Richard Noble (40.38 3rd MV40), Ian Gawinowski (41.06) and Mike Mewse (2nd MV60 45.20).
Westbury's men relaxing after the race
Frome Running Club's Peter Grist took the individual honours from the host club's Robert Farley while Andrew Tarrant of Southville Running Club had a good on to come fourth.
In the women's race Bristol & West's Clare Jolliffe chased home the Westbury pair with Bitton's Lauren Price fourth.
There were 470 finishers.
Men: 1 Peter Grist (Frome) 35:18; 2 Robert Farley (Bitton RR) 35:35; 3 Rhys Smith 36:21; 4 Andrew Tarrant (Southville RC) 36:52; 5 Brad Cox (Bitton RR) 37:14.
M40: Matt Langdon (Bitton RR) 37:71. M50: Anthony Balance (WH) 40:26.
Women: 1 Sophie Voller (WH, W35) 41:02; 2 Robyn Ellison (WH, W35) 41:09; 3 Clare Jolliffe (B&W, W45) 41:13; 4 Lauren Price (Bitton RR) 42:53.