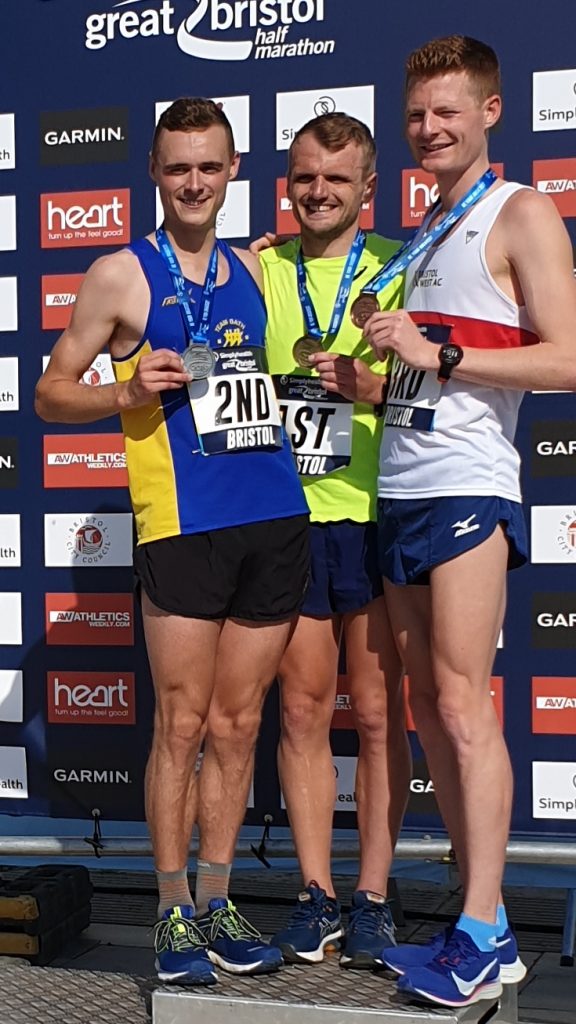 Podium guys (L to R): Alex Carter, Matt Clowes and Harry Allen 
TEAM Bath runner Alex Carter arguably produced the best performance of the day at the Great Bristol half marathon yesterday as he smashed his personal best to finish runner-up.
Cardiff half marathon specialist Matt Clowes was in a class of his own at the head of the field as he notched up victory in a swift 65mins 08secs, his fifth win from six half marathon starts this year.
Not his fastest, though, as Clowes ran 64:03 for second in Reading and 64:06 to win the Wokingham event. In addition he also won the Swansea, Llanelli and Potters half marathon races.
In contrast 23-year-old Carter was racing only his second half marathon having dabbled his toe in the water with a training run in the Bath marathon in March clocking 75:06.
"The target for Bristol was just to run inside 70 minutes but it went a lot better than that and I am delighted," said Carter.
Carter laid off the early 65 minutes pace set by Clowes and Bristol & West's Harry Allen happy to sit in the chasing group. But at two miles he broke clear of that group and started to chase Allen, who had to let Clowes go on a warm, sunning morning in Bristol.
"I caught Harry around seven miles and sat in with him for a mile but as I felt strong I decided to push on and was then on my own until the finish," added Carter.
Carter's time of 68:37 slashed over six minutes from his Bath time to lift him to ninth in the South West Rankings while Allen held on for third in 69:30, well outside his PB of 67:47 set in the Bath race.
North Somerset's James Rodgers and Adam Stokes of B&W also made the top ten while leading Westbury Harrier was Matt Ellis, just a week after winning the Avon 10 miles title at Oldbury.
That also earned him the veterans' over 40s prize ahead of Westbury clubmate Oli Beale.
Some of the Bristol & West AC runners in yesterday's Bristol half marathon, including top veteran Annabel Granger (back row in the sun glasses).
Leading woman was former Bristol & West junior international Annabel Gummow. The Cornishwoman is now competing for Winchester as she lives and works in Hertford and her victory was a great way to celebrate her 26th birthday today.
Taunton's Kate Drew ran a PB – and there weren't many of those on a hot day – of 80:35 while B&W's Anabel Granger continued her impressive form with an excellent fourth place that easily earned her the veterans' prize.
Great Bristol Run half marathon – men: 1 Matt Clowes (Cardiff) 65:08; 2 Alex Carter (TB) 68:37; 3 Harry Allen (B&W) 69:30.
LOCAL: 7 James Rodgers (NSAC) 71:00; 10 Adam Stokes (B&W) 71:18; 11 Michael Towler (AVR) 71:31; 14 Chris McMillan (Weston) 73:44; 15 Matt Ellis (WH, M40 1st) 73:43; 18 Oli Beale (WH, M40 2nd) 74:32; 26 David Awde (B&W) 75:47 (PB); 27 Kieron Summers (Weston, M45) 75:49; 28 Arthur Dickson-Bell (Southville RC) 75:59 (PB); 29 James Ralston (SRC) 75:48; 30 Andrew Drake (B&W) 75:56 (PB); 33 Ben Maliphant (B&W) 76:16; 34 Robert Farley (B&W) 76:23; 43 Alex Hamblin (WH) 77:56; 47 Dan Sault (Calne RC, M40) 78:59; 49 Sam Cotterell (B&W) 79:03.
Women: 1 Annabel Gummow (Winchester) 77:05; 2 Jennifer Beckingham (Southampton) 79:39 (PB); 3 Kate Drew (Taunton, U23) 80:35 (PB); 4 Annabel Granger (B&W, W45) 82:15.
LOCAL: 7 Katie Hughes (WH, W45) 84:30; 8 Amber Gascoigne (unatt, W40) 84:26; 10 Susan Duncan (Weston, W35) 85:08 (PB); 13 Sophie Birtles (Bris Uni, U20) 86:51; 16 Rosie Hattersley (B&W) 87:48; 17 Jenny Carter (TB, W45) 88:13; 20 Kelly Dicks (GWR) 88:55; 22 Catie O'Donoghue (B&W) 89:13; 24 Julia Belyavin (B&W, W40) 89:42.