CAN Jenny Spink become the first local runner to win the Great Bristol half marathon since Olympian Claire Hallissey six years ago?
The Bristol & West athlete (pictured below) certainly looks to have a fighting chance if the elite entry is anything to go by as she is one of the quickest – on paper at east – of those British runners registered and so far there has been no reference to any African athletes being
invited.
An all-British field would clearly throw a different complexion on the event and give Spink the chance to improve upon  her second place in 2014 and then third last year.
On both occasions Spink was not so close that she could feel victory slipped from her grasp; she was 2mins 25secs behind  Gladys Yator in 2014 and 1min 8secs adrift of Teresiah Omosa last year as the Africans continued their dominance of the event.
Nonetheless, living and working in Bristol along with being a member of the local club means Spink will have huge support out on the course, not least from family and friends so that will give her an extra edge in the closing stages when the pain really starts to bite.
"Bristol is a special race for me and it is great to get so much support especially up the Portway," said Spink.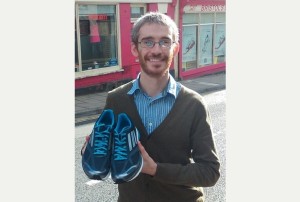 "I have finished second and third in the past two years but I have not seen the entry list for this year so I don't know how strong it will be.
"But I have been doing the miles and the long runs to prepare for it and I feel that the half marathon is more my speciality so I am sure I will be fine.
"I am looking forward to the race."
Tom Merson heads a strong Bristol & West AC men's squad with Jarlath McKenna (pictured right with his Easy Runner/Bristol Post athlete of the month prize)and Pete Le Grice in support while from North Somerset AC Josh Davis is also entered.
Belgrave Harriers' former British international Phil Wicks, who was third last year and in 2007, is the fastest man in the field with a best of 62:51.
The race gets underway at 9.30am.