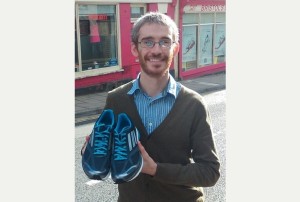 MEDALS remain frustratingly elusive but Bristol & West AC maintained their consistent record in the English Six-Stage Road Relays.
With some key athletes missing team manager Mike Down's pre-event caution was well-founded but he can take encouragement from the final position of seventh in a time of 1hr 48mins 43secs.
It was their highest place during the race around the Sutton Park circuit as Kurt Taylor finished strongly, taking over from Jarlath McKenna (pictured right) in ninth and claiming two more places.
Jack Millar posted the team's fastest time of 17mins 46secs on stage one, coming home in 11th and Andrew Watt made another two places on stage two with a swift 18:05.
Adam Stokes dropped four to leave the club 13th at the halfway stage only for Dan Studley (pictured below left) , Mckenna and Taylor to stage a strong second half.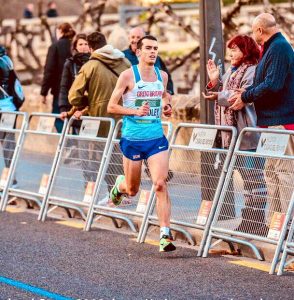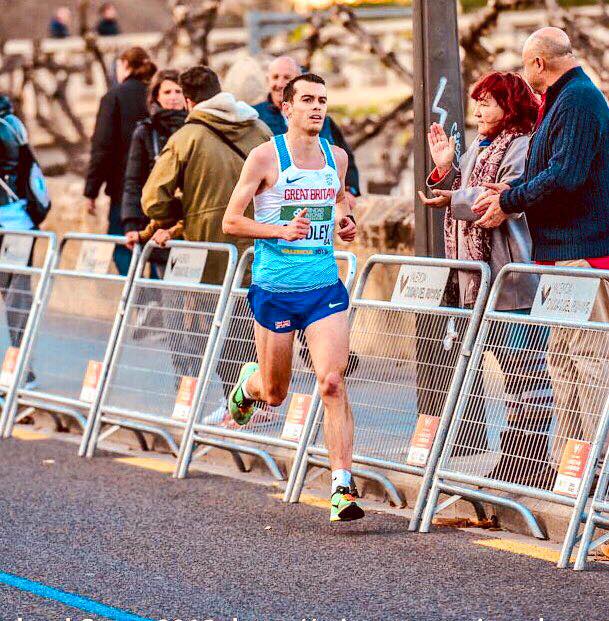 Only two of the squad who finished second at the Midlands over the same course last month made the National and both improved their times; watt progressing from 18:17 to 18:05 and Taylor from 18:15 to 18:09.
But only Millar and Studley dipped inside 18 minutes and as Down knows to be a genuine medal contender you need almost the whole team to achieve that with a couple running low 17 minutes.
Nonetheless, a solid effort that stands comparison with their record over the past ten years which reads as follows:
2019: 7th 1:48.43
2018: 18th 1:50.16
2017: 5th 1:47.19
2016: 11th 1:48.51
2015: 5th 1:48.02
2014: 15th 1:50.46
2013: 10th 1:48.18
2012: 10th (Nottingham)
2011: 6th 1:48.27
In addition the second squad finished sixth B team overall.
1 Leeds City 1:44.46; 2 Aldershot Farnham & District 1:45.19; 3 Cambridge & Coleridge 1:45.37.
7 Bristol & West AC             'A' 1:48:43
Jack Millar     (11) 17:46
Andrew Watt     (9) 18:05
Adam Stokes     (13) 18:40
Daniel Studley   (10) 17:57
Jarlath Mckenna (9) 18:06
Kurt Taylor     (7) 18:09
8 Bristol & West AC             'B' 1:55:56
Jed Bartlett     (60) 19:04
Henry Cochrane   (48) 18:52
Adam Wilson     (44) 19:25
Nick Roberts     (49) 19:56
Peter Bains     (42) 19:30
Harry Allen     (38) 19:09
Women: 1 Cardiff AC 57:26; 2 Tonbridge AC 59:24; 3 AFD 59:41.
24   Bristol & West AC             'A' 1:06:38
Rosie Hattersley (28) 15:53
Catie O'donoghue (32) 16:56
Elaina Gard     (29) 16:46
Rebecca Pierce   (24) 17:03
Incomplete – Westbury Harriers                
Floren Scrafton (11) 15:00