BRISTOL & West AC's senior men slipped to their lowest place since 2005 as they finished 18th in the English National 6-Stage Road Relay Championships in Birmingham.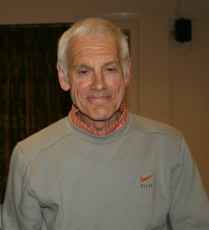 Team boss Mike Down (pictured left) had set the team a target of a top ten finish after finishing fifth in the Midland Counties over the same course two weeks previously but afterwards admitted that target may have been too high.
"To finish only 18th was a disappointing result in the light of our impressive record in this event
over the last 15 years – our lowest since 2005 when we were 14th in an  almost identical time and the only other occasion when the team failed to finish inside 1hr 50mins," said Down.
"This is not in any way to undermine the effort and commitment of our eight runners (there were only two in the B team), and it is true that the overall times at the front of the race indicate that the standard was perhaps higher than it has been in the past five years, with the three medallists Stockport, Leeds and Aldershot all clocking times well inside 1hr 46mins.
 "The time for instance that we clocked last year in 5th place would have been good enough for only 9th on Saturday. It suggests that my top ten target was perhaps over ambitious. 
"Yet we have to admit that the result was still well short of our expectations and suggests that maybe we are not keeping pace with the apparently ever rising standards of the competition."
Jack Millar (pictured right) gave the club a sound start clocking 17mins 56secs to finish 25th on stage one but he was no more than three-quarters of a minute off the lead in what was a talent-packed opening stage.
That was set up nicely for Owain Jones (18:03) to carve through the field up 17th on the second leg, but that's where the team's progression stalled.
Next up Harry Allen (18:24) held his position without making further progress, while Jarlath McKenna (18:29), who was not expecting to be at his best due to the cold he had suffered since the Midlands, not only failed to make any further headway, but actually lost a place that a clearly undercooked Steve Mitchell (19:01) could not improve on the penultimate stage.
 That finally left Mike Wilsmore (18:23) with too big a gap ahead to make any further impression.
 "Whatever the excuses – and the biggest of all being the number of likely first choice runners unavailable – we need to face a reality check of what's needed to recover the top six ranking we have established among the country's leading clubs in recent years," added Down.